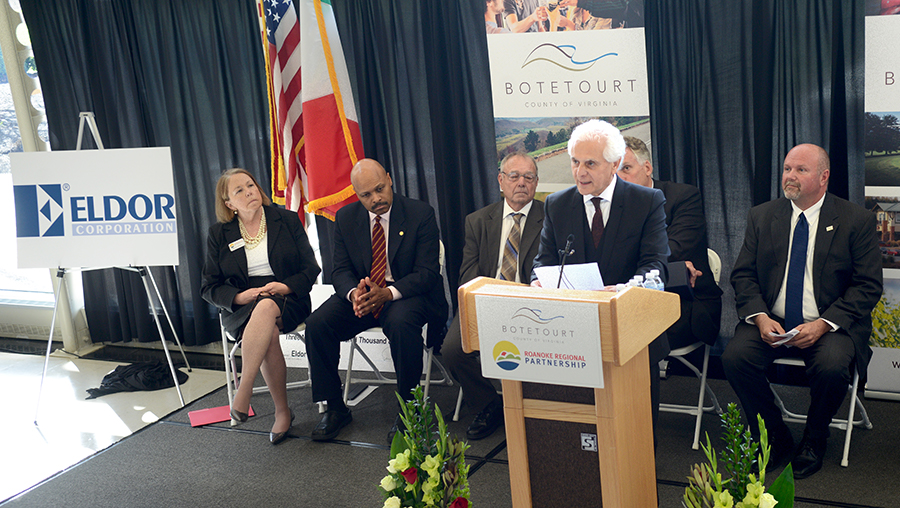 The Roanoke Region employment growth from December 2018 to December 2019 exceeded employment growth rates for NOVA, Richmond, Hampton Roads, Harrisonburg, Staunton, Charlottesville, Lynchburg, and Blacksburg (BLS). There's a reason that employment growth in 2019 was so strong; it's the work of the Roanoke Regional Partnership and its government partners.
Go back a couple of years and you'll remember a flurry of announcements. Those companies, such as Eldor (pictured above), Constellation Brands, or Harkness Screens, take a while to ramp up new operations. And the regional companies that are expanding (Altec, Empire Bakery, and others) often take time to hire the best people to fill new jobs.
All in all, we saw in 2019 the results of years of work by economic developers at the local, regional, and state levels.
Some other interesting facts about job growth:
There were 3,300 more jobs at the end of 2019 as there were in 2018. That's the highest level of employment in the metropolitan statistical area since 2000.
The year-over-year change was 2 percent. The highest since 1998.
The greatest growth was in the manufacturing sector at 9.2 percent or 1,400 new jobs.
Roanoke Regional Partnership assisted announcements from 2016 to 2019 represented more than 1,100 primary jobs and 1,000+ secondary jobs.
| Industry Sector | December 2018 (thousands) | December 2019 (thousands) | Change |
| --- | --- | --- | --- |
| Total | 162.4 | 165.7 | 2.0% |
| Manufacturing | 15.3 | 16.7 | 9.2% |
| Trade, Transportation, Utilities | 33.5 | 34.5 | 3.0% |
| Construction/Mining | 8.2 | 8.4 | 2.4% |
| Leisure/Hospitality | 14.4 | 14.7 | 2.1% |
| Education/Health | 28 | 28.4 | 1.4% |
| Other Services | 7.8 | 7.9 | 1.3% |
| Financial Activities | 8.1 | 8.2 | 1.2% |
| Professional/Business Services | 22.7 | 22.5 | -0.9% |
| Significant Partnership-Assisted Announcements | Primary Jobs | Year Announced |
| --- | --- | --- |
| Eldor Corporation | 350 | 2016 |
| Arkay Packaging | 60 | 2016 |
| Ballast Point (Constellation Brands) | 178 | 2016 |
| Altec | 180 | 2017 |
| Harkness Screens | 50 | 2017 |
| Harris Corp. (Elbit) | 97 | 2018 |
| Empire Bakery | 75 | 2018 |
| Cardinal Glass | 60 | 2018 |
| Pratt Industries | 50 | 2019 |