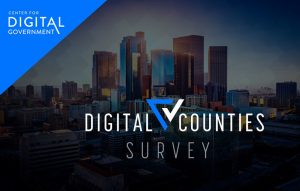 Franklin County placed in the top 10 of the Annual Digital Counties Survey for communities with a population of less than 150,000.
Franklin County was ranked ninth. The winners were announced this month by the Center for Digital Government (CDG) and the National Association of Counties (NACo).
The survey identifies the best technology practices among U.S. counties, including initiatives that streamline delivery of government services, encourage open data, collaboration and shared services, enhance cybersecurity and contribute to disaster response and recovery efforts.
"Innovative counties are using technology and data to better serve their citizens, respond quickly to citizen needs around COVID-19, and support digital experience initiatives," said Phil Bertolini, co-director, CDG. "The Center for Digital Government congratulates this year's winners for their hard work and their efforts to use technology to make government better."
Top Digital Counties, Up to 150,000 Population Category
1st County of Mono, Calif.
2nd Albemarle County, Va.
3rd County of Nevada, Calif.
4th Montgomery County, Va.
5th Coconino County, Ariz.
6th Dodge County, Wis.
7th County of York, Va.
8th Carver County, Minn.
9th Franklin County, Va.
10th Vilas County, Wis.
Further, the survey showed the top counties have the following characteristics:
Cybersecurity
Budget & Cost Control
Citizen Engagement/Experience
Disaster Recovery/Continuity of Operations
Business Intelligence/Analytics
Business Process/Automation
Cloud Computing
Hire/Retain/Nurture Competent IT Personnel
Infrastructure Modernization
Increased Departmental IT Collaboration
Franklin County is a repeat winner in this annual ranking.