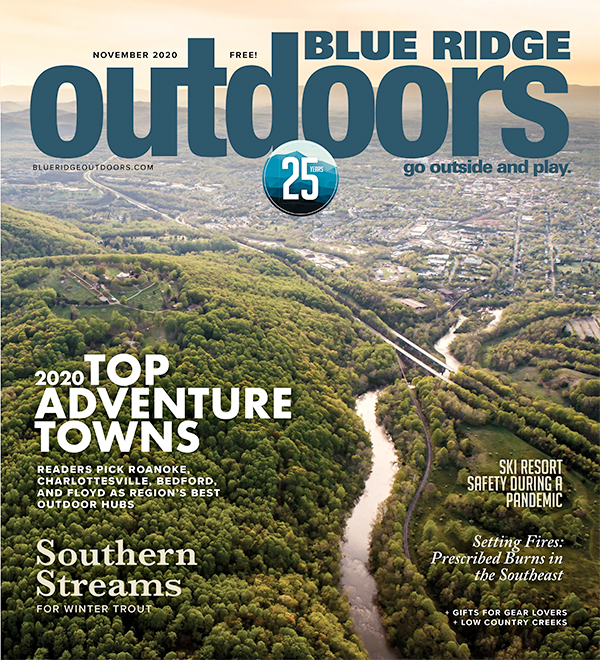 For the second year, Roanoke is the Top Adventure Town winner in the annual ranking from Blue Ridge Outdoors Magazine.
Roanoke edged out Chattanooga and Asheville for the win.
The region is earning quite a reputation when it comes to top town honors:
Roanoke earned Top Adventure Town (Large) in 2019 and 2016, Top Mid-Sized Town in 2015, Best Trail Town in 2013, and was voted Best Mountain Town in 2012.
All of the top adventure town winners were from Virginia this year: Floyd (tiny town), Bedford (small town), and Charlottesville (med-sized town).
"It's pretty awesome that our region continues to be recognized for a commitment to the outdoors and culture," says Pete Eshelman with the Roanoke Outside Foundation. "There aren't too many places with such easy access to such a diverse offering of outdoor recreation opportunities. This recognition highlights the immense number of opportunities right here."
Here's what the magazine had to say about the region: "Roanoke took home honors as top large town for the second year in a row, beloved as a go-to spot for mountain biking and hiking. Located in the valley of a mountain chain, you can find adventure in any direction, from mountain biking at Mills Mountain and Carvins Cove, hiking to iconic overlooks on the Appalachian Trail, and a variety of activities at Explore Park."
Earning recognition from a publication such as Blue Ridge Outdoors helps, too! It helps spread what we already know in the Roanoke Region to people in other locations that may not know what a hopping outdoor spot this is.
You can read the full feature from Blue Ridge Outdoors in the current issue.