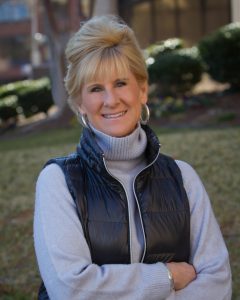 Ann Blair Miller has rejoined the Roanoke Regional Partnership as Director of Business Investment.
Ann Blair Miller has more than 20 years of economic development experience and is responsible for project management as well as designing and implementing business recruitment strategies for the Roanoke Region.
She previously worked for the Roanoke Regional Partnership before joining the Virginia Economic Development Partnership (VEDP) as Business Retention and Expansion Project Manager from 2017-2019.
Ann Blair is a past president of the Virginia Economic Developers Association (VEDA), and has been involved with VEDA as a board member or an executive officer since 2005. She was the 2015 recipient of The Cardinal Award, which is the most prestigious award bestowed by VEDA. The award recognizes leadership in the field of economic development, outstanding professional accomplishments, and exceptional service to the organization. 
She is a graduate of Radford University; the Virginia Institute for Economic Development; the University of Oklahoma, Economic Development Institute (EDI); and has completed course work from the International Economic Development Council (IEDC) and the University of Shopping Centers, Wharton School at the University of Pennsylvania.  
Ann Blair is currently serving on the board of Virginia's Blue Ridge. 
You can reach Ann Blair at abmiller@roanoke.org or 540-343-1550 ext. 107.