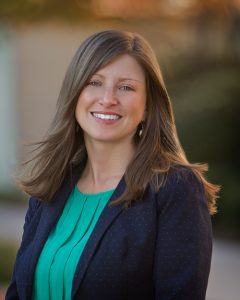 Erin Burcham, Director of Talent Solutions at the Roanoke Regional Partnership, has been announced as a recipient of the 2021 Economic Development 40 Under 40 Award, the biennial award recognizing rising stars under 40 years old in the economic development industry.
The awards program is hosted by Development Counsellors International (DCI), a New York-based integrated marketing firm that works with economic development and travel organizations around the globe, and Jorgenson Consulting, a leading national executive search firm serving organizations in non-profit, economic, and community development industries. An independent selection committee of six economic development professionals and site selection consultants evaluated a record-number of 200-plus nominees.
"This past year has demonstrated the importance of economic development in building and sustaining resilient communities," said Julie Curtin, president of DCI's economic development practice. "I'm especially impressed by the diverse perspectives and skillsets of this year's winners as they lead communities to prioritize new ways of thinking, building inclusive and equitable economies, and bringing an attitude of fresh new ideas to the challenges in the industry. The economic development future is bright with these young leaders."
Burcham joined the Partnership in 2017 and has built the talent solutions program, leading the growth of Get2KnowNoke, regional collaboration through GO Virginia initiatives, and the growth of the Experience conference and events. She holds a bachelor's degree in communications from the University of South Carolina and master's degree with a specialty in economic development from Virginia Tech.
"The economic development industry is in good hands with these rising leaders," said Todd Jorgenson, managing director and principal of Jorgenson Consulting, Inc. "The communities they represent—from Tuxpan, Mexico to Covington, Kentucky to Québec, Canada—are fortunate to have the smart, innovative ideas of this year's winners."
DCI and Jorgenson officially announced the winners March 16 at a virtual awards reception held in conjunction with the International Economic Development Council Leadership Summit.
Find more information on the 40 Under 40 awards program and this year's winners from DCI.