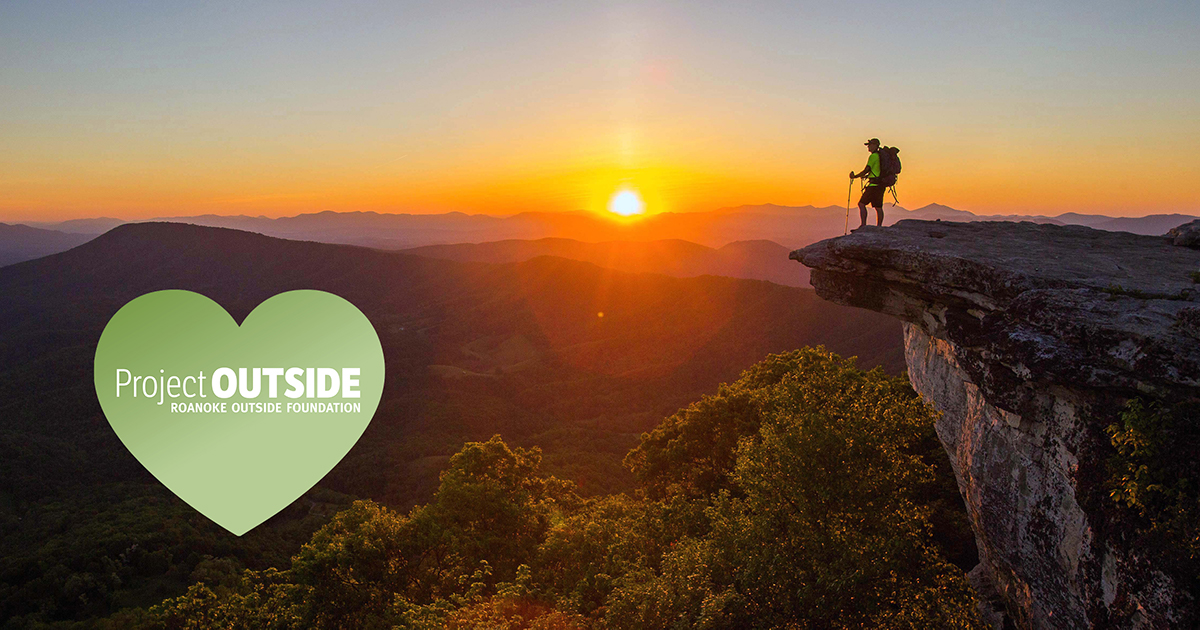 The Roanoke Regional Partnership and Roanoke Outside Foundation celebrated a major win in March, awarding 14 grants through Project Outside.
Funds raised during the latter part of 2020, will support outdoor projects including greenway repairs for section damaged by flooding, machines for trail work, installing a new river access ramp, tools for volunteer trail workers, development of outdoor program for underserved youth, disc golf course improvements, and support for outdoor businesses impacted by the pandemic.
"The goal of Project Outside was to fill maintenance funding gaps in projects or initiatives and pool resources to tackle large-scale outdoor infrastructure projects," said Pete Eshelman, director of the Roanoke Outside Foundation. "These projects all showed need and can make immediate impact in the community."
Project Outside is just one more piece of the bigger economic development puzzle in the Roanoke Region.
For 125+ years, the narrative of the region centered around the railroad, controlling its identity and economy. In 2010, regional leadership recognized that one of Roanoke's greatest strengths is the beauty of its location. The region's outdoor assets are truly extraordinary – the Appalachian Trail, Blue Ridge Parkway, greenways, hundreds of miles of trails, lakes, rivers, and more. Yet these assets were being treated like wallpaper; nice to look at, taken for granted, and not leveraged for economic growth in any way.
The intentional and concerted effort of the Roanoke Regional Partnership, primarily through the Roanoke Outside Foundation, has been to leverage this community strength.
The outdoors is a tool to help attract business investment and talent. It has also created a sustainable community brand. It is no longer rails, it's trails. Rivers and trails are no longer viewed as simply dirt and water, they are economic growth tools.
Outdoor assets have a broad impact on community (and livability) through tourism, talent attraction, population growth, business and wage growth, global brand development, community health, and environment/public spaces. The outdoors touches all the areas the Roanoke Region wants to develop as a community.
Across the globe, the outdoors has become a sanctuary during the pandemic as a safe place to play. Most outdoor spaces have seen a 200 percent increase in usage that has created rapid wear and tear on well-used trails, greenways, and river access points.
Recognizing local governments lacked funds to adequately maintain outdoor assets during the pandemic, the Roanoke Regional Partnership and Roanoke Outside launched Project Outside in August 2020 with a goal of raising $100,000 to support outdoor capital infrastructure projects, maintain outdoor assets, and help support businesses in the outdoor sector. Project Outside was conceived to keep the community strength – outdoor assets – healthy and useful by engaging businesses and outdoor users to contribute and help address these needs quickly. 
This pandemic delivered us a gigantic truckload of lemons and Project Outside was the vehicle to serve up some fabulous lemonade. Through individual and business donations, Project Outside raised $107,000 (and counting).
See the complete list of funded projects
Corporate supporters include Alcova Mortgage, Anthem, Blue Mountain Adventures, Blue Ridge Hydroponics, Blue Ridge Outdoors, Brown Edwards, Cardinal Bicycle, Carilion Clinic, Community Foundation Serving Western Virginia, Deschutes Brewery, Dominion Risk Advisors, Downshift Bikes, Draper Aden Associates, East Coasters, E.C. Pace Company, Fleet Feet, Freedom First, Gentry Locke, GO Outside Festival, Haley Toyota, Hydro Flask, Member One Federal Credit Union, Mountain Shepherd Adventure School, Orvis, Roanoke Mountain Adventures,  Runabout Sports, Treetop Quest Explore Park, and Twin River Outfitters.
This is our time to invest in our community strength – the outdoors – to continue positioning the Roanoke Region as a preferred place to live, work, play, and visit.