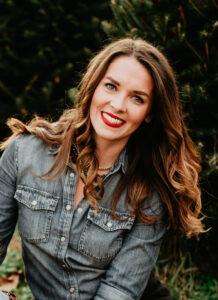 Julia Boas has been named director of marketing for the Roanoke Regional Partnership. Boas has worked the last seven years as the director of events and events marketing at the Roanoke Outside Foundation, a non-profit created by the Roanoke Regional Partnership in 2013.
"Boas has an amazing ability to do a lot with very little and does not take no for an answer. She is able to leverage partnerships to create high-caliber events that exceed expectations," said Pete Eshelman, director of outdoor branding for the Roanoke Regional Partnership and director of the foundation. "She's an incredibly hard worker, often remaining in the shadows while others receive credit for her efforts. She's all about making the Roanoke Region a better place, and her capacity to organize a mountain of details under extreme pressure will serve her well in any position."
"Julia's communications and marketing expertise has served the Roanoke Outside Foundation well, resulting in a high level of growth in the foundation's events," said John Hull, executive director of the Roanoke Regional Partnership. "I am excited to continue working with Julia as she transfers her passion, energy and expertise toward marketing strategies aimed at attracting jobs, investment and new residents to the Roanoke Region of Virginia."
Under her leadership, the Blue Ridge Marathon was built into an internationally recognized event with a $6.9 million economic impact to date and 10 to 15 percent increased participation every year (pre-COVID). GO Outside Festival became a national event, attracting top outdoor manufacturers and retailers, and growing in attendance from 15,000 to 40,000. Go Cross Cyclocross Race, in only three years, became a UCI event putting Roanoke on the international cycling map attracting professional athletes from around the world. Each event has increased in overall attendance, athlete registrations and economic impact every year under her management.
"We've been able to change the narrative of what it means to be a 'Roanoker' both within our own community and on a national level." says Boas. "The outdoors is now one of the number one things that people associate with the region…events like the Marathon and GO Fest were created as tools to tell that story. I'm excited to take these strategies and put them toward our overall mission at the Roanoke Regional Partnership."
In this role, she will continue to develop the talent attraction and retention brand Get2KnowNoke and harness Roanoke Outside's livability narrative to increase visibility and build an economic sector in outdoor recreation, outdoor business, and adventure tourism. Boas will also work on strategic communication plans focusing on growth in established target sectors and assisting with development of fledging sectors such as innovation, technology and life sciences in the Roanoke Region.
Prior to working for Roanoke Outside, Boas worked in the outdoor industry for almost a decade with experience guiding adventure excursions, planning outdoor related events, promoting, management and customer service. She holds a bachelor's degree in mass communications from the University of South Carolina. She was honored with the Roanoker Magazine 40 under 40 distinction in 2020 and selected by Virginia Business as one of the 100 Virginians to Meet in 2020.  
The Roanoke Regional Partnership, founded in 1983, is the public-private economic development marketing and strategy organization supported by Alleghany, Botetourt, Franklin, and Roanoke Counties, the cities of Covington, Roanoke, and Salem, and the town of Vinton as well as more than 200 businesses. The organization has worked with its partners to create more than 19,000 primary jobs and $19 billion in investment by attracting companies such as Orvis, Altec, McAirlaids, Bimbo Bakeries, Cardinal Glass, Balchem, Eldor, Mack Trucks, Traditional Medicinals, Constellation Brands and others to the region.