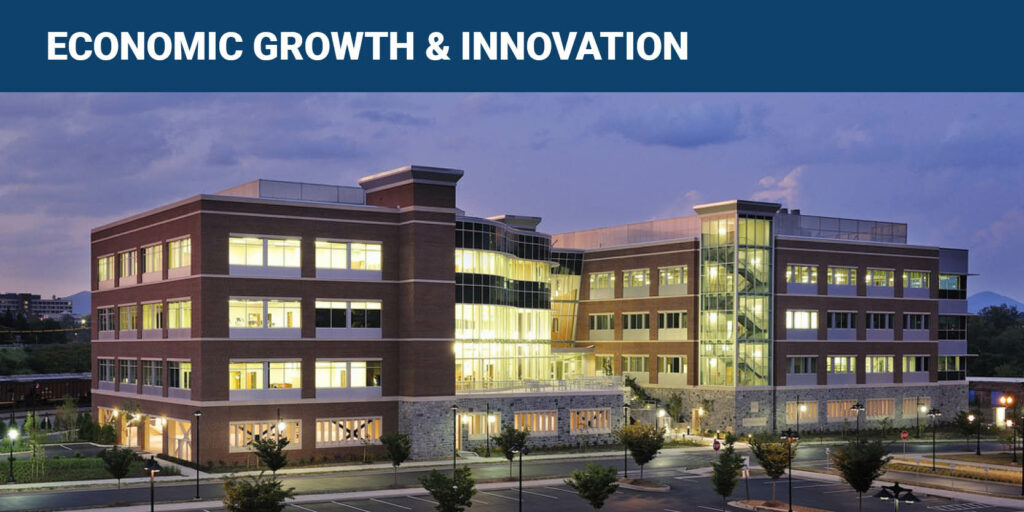 When the Roanoke Regional Partnership announced the Thrive 2027 strategic plan, it included four key strategic areas for the organization's program of work over the next five years.
Economic Growth & Innovation. Grow the economy by amplifying business recruitment and expansion (BRE) efforts, strengthening technology and innovation, and generating more high-paying jobs.
Talent Attraction & Workforce Development. Expand efforts to attract and retain in-demand talent.
Commercial Real Estate & Infrastructure. Advocate for the acceleration of commercial and industrial real estate development and support advocacy for infrastructure improvement and funding.
Placemaking & Livability. Reinforce the region's identity and competitive advantage as an outdoor destination, while highlighting other prominent lifestyle features and amenities, and supporting quality-of-life efforts.
The 2027 plan builds on the current program of work adopted in 2017 that took the region to a higher level, creating over the past five years 3,255 direct and indirect jobs, $527 million in new capital investments, and an increase in per-capita income by 15 percent.
The Partnership completed a strategic planning process to assess the region's competitive position and match its program of work to the opportunities and challenges of a competitive, global economy. Business, government , and community leaders helped build the plan.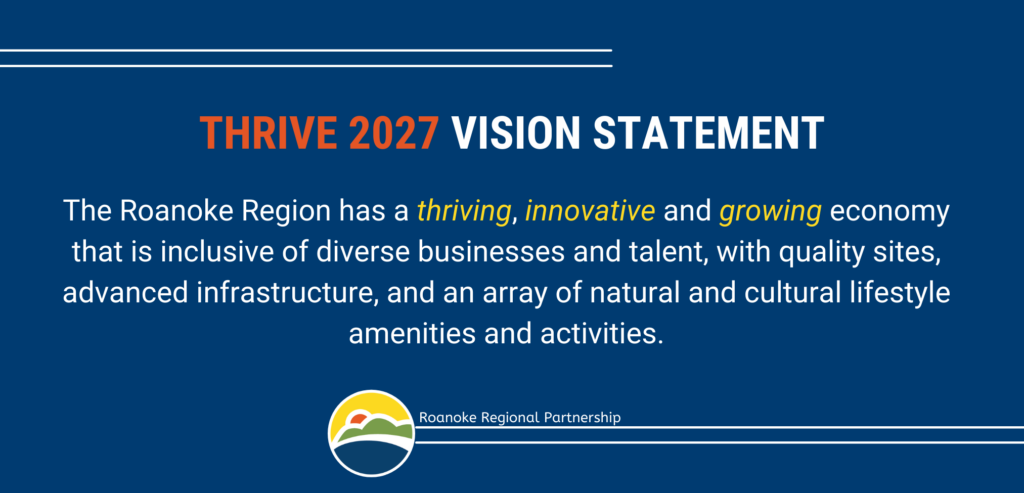 ---
Here's a deeper look at the Economic Growth and Innovation part of the plan.
The Roanoke Regional Partnership is the leading economic development organization for the region. Business recruitment and expansion activities are fundamental to its mission and purpose, but continuous improvement is essential for increased competitiveness for industry growth and career opportunities with attractive compensation. Technology and innovation are targets that require greater focus in terms of recruiting established companies, supporting emerging, entrepreneurial firms and storytelling around the Roanoke Region as an innovative market.
Elevate business recruitment, expansion and retention activities.
Build upon relationships with existing economic development partners (i.e. VEDP, Verge, chambers, SBDC, Advancement Foundation, Go Virginia, etc.) through consistent communications, touchpoints, and collaborations.
Expand interactions with site selection consultants and business relocation and expansion decision-makers through in-person and virtual tours, outreach, and marketing trips to places with high concentrations of Roanoke's target industry clusters.
Engage in proactive, media relations to raise awareness of the region.
Invest in technologies that will allow the Roanoke Regional Partnership to give virtual site tours to prospects.
Boost the region's reputation as a technology and innovation hub.
Engage experienced, professional, public relations assistance to earn international media attention.
Gain commitment from key stakeholders to share information that will craft a strong technology and innovation story that can be used in the media strategy.
use the RRP's digital platforms (web, email newsletters, and social media) to amplify messaging.
Feature businesses and individuals who are regional innovation leaders in stories on RRP digital platforms. 
Share content as appropriate with  RoanokeInnovates.com, VEDP.org, and other platforms to amplify reach.
Contribute to the success and retention of the entrepreneurial companies.
Identify and include small, innovative, and growing companies in regional business response and efforts.
Raise awareness that the Partnership's market insights, other research, and knowledge of data sources are available to area entrepreneurs and business owners.
Assist with search needs to connect entrepreneurial firms to available real estate or the brokerage community. Provide feedback that will inform new development that meets the needs of emerging companies.
Partner with the RAMP Regional Accelerator, SBDC, and Advancement Foundation on assisting companies with insights, resources and services.

Do you want to know more about the five-year strategy or how an investment in the Roanoke Regional Partnership can work for you? Contact us to learn more.