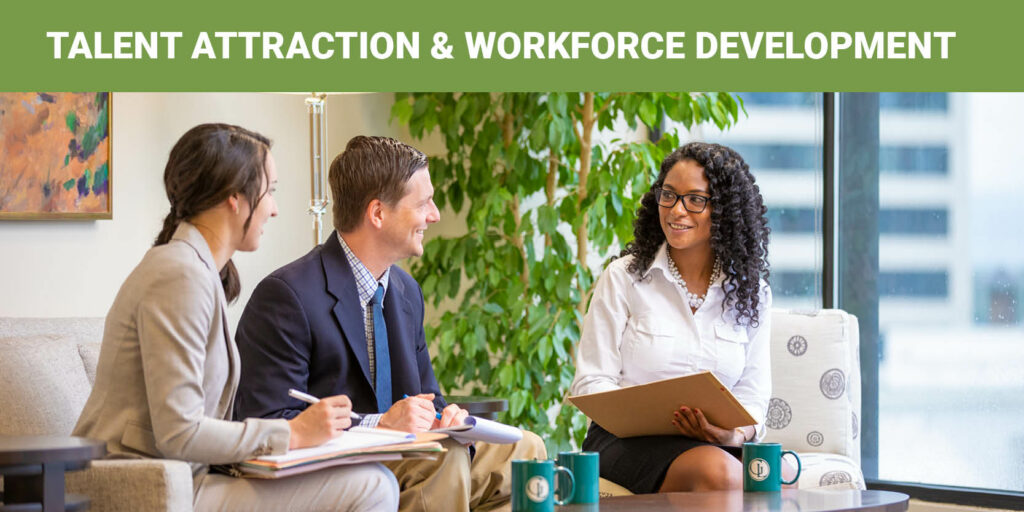 When the Roanoke Regional Partnership announced the Thrive 2027 strategic plan, it included four key strategic areas for the organization's program of work over the next five years.
Economic Growth & Innovation. Grow the economy by amplifying business recruitment and expansion (BRE) efforts, strengthening technology and innovation, and generating more high-paying jobs.
Talent Attraction & Workforce Development. Expand efforts to attract and retain in-demand talent.
Commercial Real Estate & Infrastructure. Advocate for the acceleration of commercial and industrial real estate development and support advocacy for infrastructure improvement and funding.
Placemaking & Livability. Reinforce the region's identity and competitive advantage as an outdoor destination, while highlighting other prominent lifestyle features and amenities, and supporting quality-of-life efforts.
The 2027 plan builds on the current program of work adopted in 2017 that took the region to a higher level, creating over the past five years 3,255 direct and indirect jobs, $527 million in new capital investments, and an increase in per-capita income by 15 percent.
The Partnership completed a strategic planning process to assess the region's competitive position and match its program of work to the opportunities and challenges of a competitive, global economy. Business, government , and community leaders helped build the plan.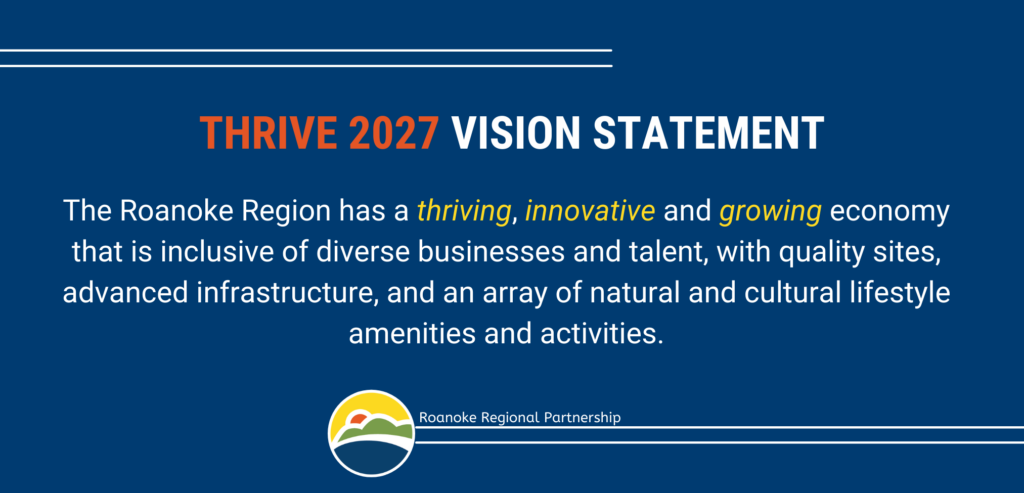 ---
Here's a deeper look at the Talent Attraction and Workforce Development part of the plan.
Available, skilled talent is one of the leading indicators of a growing and competitive economy. Given the region's challenges around a population that is simultaneously aging and declining in the number of working adults under 45, it is imperative to grow a young workforce and cultivate increasing racial and ethnic diversity into an advantage. Given the Partnership's strong marketing and communications capabilities, it is uniquely positioned to continue leading talent attraction activities, while using its regional purview and relationships to support the advancement of local education and workforce development.
Lead talent attraction marketing efforts for a young, diverse and skilled workforce.
Continue leading regional talent attraction efforts targeted to select geographies and occupations through a multi-platform digital campaign.
Highlight in digital formats the stories of individuals who have built satisfying careers and lifestyles in the region, whether they stayed after graduation, returned after moving away, relocated with remote work, or relocated for a career opportunity.
Explore opportunities with local college and university alumni associations to integrate talent attraction messaging into their web, email, and social media communications.
Continue the Experience conference and the Get2KnowNoke summer internship program as ways to help retain local students and recruit those from other geographies.
Continue Get2KnowNoke retention efforts through social programming that not only targets young professionals but mid-career and remote workers new to the region.
Host organized receptions around events that attract a large number from outside the region (i.e., Blue Ridge Marathon and Ironman) to deliberately pitch the Roanoke Region as an ideal place to live and work.
Collaborate with education and workforce development partners to better align talent programs with employers needs.
Create a business response team in collaboration with local governments, chambers, educators, and workforce agencies to build a forum to better identify, understand, and collaboratively address shared concerns and challenges (including talent) affecting business and economic growth and share information with agencies and policy makers that can address them.
Develop a digital Roanoke Region employer guide that includes a listing and map of all of the talent and workforce resources in the region, with brief descriptions and web links that can be updated and refreshed as needed.
Organize an annual retreat for talent and workforce partners to coordinate and set priorities and objectives for the year, along with mid-year check-in to update on progress. Local business and education leaders can share insights on issues such as skill supply, diversity and inclusion, and economic equity. The Partnership can compile and present data on talent and workforce issues.
Foster opportunities for greater diversity in the region's workforce and leadership.
Identify subject matter experts and content that can be shared with employers through members of the business response team on matters of diversity, equity, and inclusion.
Create partnerships with nonprofits to market volunteer opportunities to Get2KnowNoke participants with the aim of giving young professionals a sense of ownership over the community.
Form a Get2KnowNoke advisory committee of diverse, young professionals to inform retention efforts and strategies.
Launch a Get2KnowNoke talent ambassador program, consisting of diverse individuals who can collectively serve as "the face" of the region social media and other communications, as well as in-person recruiting events.

Do you want to know more about the five-year strategy or how an investment in the Roanoke Regional Partnership can work for you? Contact us to learn more.