The article by Virginia Business (see excerpt below) featured the Roanoke Regional Partnership's executive director John Hull and several economic development partners, focusing on the uptick in economic development activity driven by regional revitalization strategies.
The article highlights Partnership-led, forward-thinking investments in infrastructure, strategic planning for revitalization, and a marketing approach that touts the area's outdoor amenities which have led to recent sizable investments.
Munters Group AB, Cardinal Glass, Stik Pak, Balchem Corp, Valley Star Credit Union, Mack Trucks, the new Carilion Children's facility, and the redevelopment at 419 Town Center are all mentioned as examples of this success in the story. Together these investments add up to a whopping $126.3 million.
---
Below is an excerpt from the original Virginia Business article by Maria Howard, published August 30, 2021.
A Roanoke reawakening
Regional revitalization strategies gain traction
The Roanoke area is anything but sleepy when it comes to economic development these days.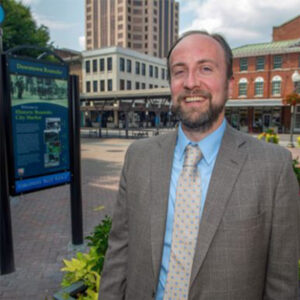 In fact, "the opportunity for Roanoke is greater now than it has been in quite some time," says John Hull, executive director of the Roanoke Regional Partnership, a public-private joint venture that works to attract new business to the region. The partnership's target area includes the cities of Roanoke and Salem, the town of Vinton, and the counties of Alleghany, Botetourt, Franklin, and Roanoke.
Thanks to forward-thinking investments in infrastructure, strategic planning for revitalization, and a marketing approach that touts the area's outdoor amenities, the Roanoke Valley is seeing sizable investments made by companies with existing operations as well as many from outside the region, Hull says.
Munters Group AB, a Sweden-based manufacturer of air treatment and cooling systems for data centers and other industrial applications, is building a 365,000-square-foot manufacturing facility that's scheduled to open in summer 2022 in Botetourt County. The company is investing $36 million to relocate its 200-employee Buena Vista operations to the county's Botetourt Center at Greenfield business park in Daleville.
Likewise, Cardinal Glass recently completed an $8 million, 26,0000-square-foot expansion at its facility in Vinton, adding 60 jobs to its 200-person workforce. And Balchem Corp. is investing $5 million to expand its Covington manufacturing facility during the next two years. The expansion is expected to double its production of key nutrients used for animal nutrition and health markets worldwide.
"We've had really strong interest," Hull says, "and the interest has been diverse in terms of sector." Companies relocating and expanding in the area range from information technology to food and beverage concerns. There's also a diverse mix of manufacturing and distribution sites, Hull says.
Stik-Pak Solutions Inc., a contract packaging company, just completed a 50,000-square-foot production building, part of the planned $14.3 million investment to expand and advance its production at Summit View Business Park in Franklin County. And Martinsville-based ValleyStar Credit Union recently opened a 19,000 square-foot administrative campus at Summit View as well.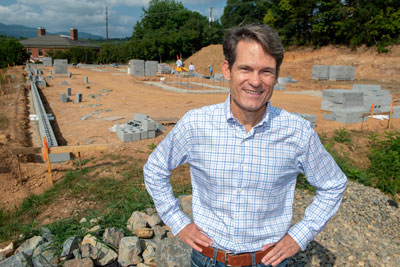 Throughout the Roanoke area, a hefty number of site development projects have received support through GO Virginia, a state-funded economic development initiative set up by senior business leaders to promote private-sector growth and job creation across Virginia.
One of those projects is Wood Haven Technology Park in Roanoke County. A municipally owned business park for high-tech manufacturing, it "has seen a huge amount of development work in the past 18 months," Hull says. "We have a 53-acre pad that's ready." He expects one large user or a couple of smaller ones to claim the site in the coming months. "Readiness is huge," he says.
In addition to having an inventory of sites prepped for construction, a necessary component for luring new business is a solid workforce. That's where the area's outdoor-focused marketing pitch comes in, Hull says.
The Roanoke Outside Foundation was created as an offshoot of the regional partnership to promote the area's array of outdoor activities — everything from hiking and biking to caving and kayaking. Its marketing slogan — "Work Hard, Play Hard, Live Easy" — aligns with today's widespread emphasis on achieving a better work-life balance in order to bolster mental and physical health.
"We're seeing it pay off," Hull says. The University of Virginia's Weldon Cooper Center for Public Service, a demographic research group, recently released population estimates showing upticks in most of the Roanoke area. "In talking to Realtors, I'm also hearing anecdotal stories about people who have chosen to make this their home," he says.