We crunched the numbers on recently published findings, and they tell a story that we here in the region already know – when it comes to the cost of doing business and the cost of living, the Roanoke Region offers serious advantages. Moody's recently released data on the cost of doing business indicating Roanoke sits 18% lower than the national average.
This index incorporates costs including workforce, energy, taxes, and real estate to arrive at a national comparison. These cost advantages are fueling the region's competitiveness and increasing economic growth projections.
Cost of living adds depth to this story as a complex mix of metrics that showcase the overall affordability of a region in a multi-faceted world. Numbers released by the Council for Community and Economic Research ranked the Roanoke metro area as the 57th lowest-cost metro in the nation with costs lower than 78% of participating metros, and 11% less than the national average.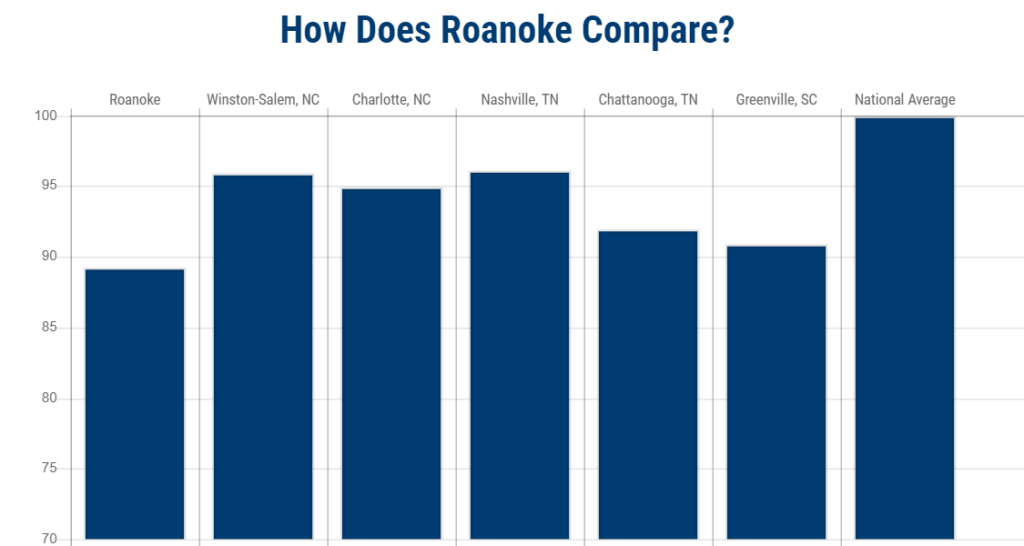 After some in-depth digging into the metrics, it appears that the cost of housing and cost of groceries appear to be major drivers of our region's relatively low costs. The region's presence on the I-81 corridor, relative to major food distribution operations and lower-cost housing options, are some of the detailed reasons why.
Regardless of the why, we know for certain that living here is more affordable and we're happy about that.
The Cost of Living Index measures regional differences in the cost of consumer goods and services. The composite index (overall ranking) is based on six component categories – housing, utilities, grocery items, transportation, health care, and miscellaneous goods and services. The Roanoke Regional Partnership takes great pride in collecting data and reporting prices to the council quarterly based on their precise methodology along with 262 other similar organizations across the country.
Most interestingly, the data also shows that Roanoke has the 9th lowest grocery costs of the 263 metros reporting data. In fact, of the top 20 lowest food prices in the nation, Roanoke is the only region on the east coast. Expanding the list to the top 50, Virginia has five other regions with low grocery costs, so Virginia is a great place for food lovers!
Not to be confused with the consumer price index (CPI), the Cost of Living Index compares regions at one point in time and the COLI data cannot be compared over from year to year. The CPI on the other hand measures change (inflation) over time, and since October 2020 the national CPI has increased 6.2%.