Moody's projections for the Roanoke Region of Virginia show the regional economy is slated to grow 6.1% this year and 3.5% next year when adjusted for inflation. This is the fastest growth this market has seen in more than 15 years.
Recent expansion and business attraction developments in the Roanoke Region are adding up and making a notable difference. Some of the recent Partnership announcements contributing to this remarkable market uptick include Munters Groups AB, Balchem Corporation, Cardinal Glass, and A. Duie Pyle.
The impact of these announcements paired with data from Moody's Analytics paints a picture of an economy on the verge of rapid recovery with economic growth far surpassing previous performance.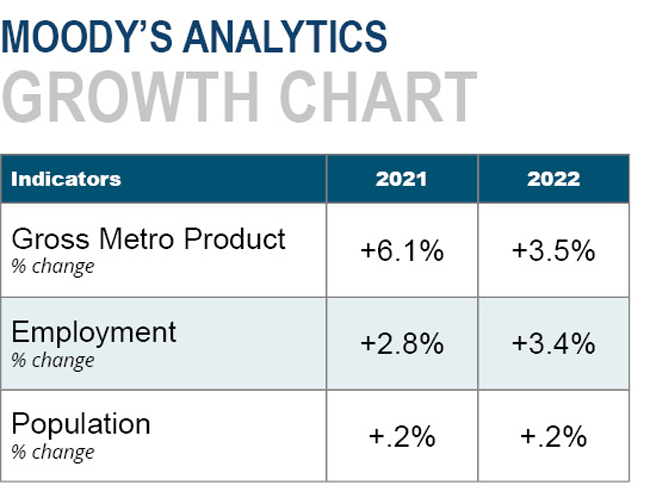 Amplifying that picture, are the striking employment and population growth numbers. On the employment front, Moody's expects the Roanoke Region to recover and expand beyond pre-pandemic employment levels in 2022 with a 3.4% increase predicted.
Moody's also projects our upward trajectory in regard to population growth to continue. Partnership analysis of Weldon Cooper Center data showed the population growth rate from 2019 to 2022 quadrupled the average annual rate over the previous decade, growing by nearly 1,500 people during that time. Moody's projections show the growth rate will continue further fueling economic growth in the years ahead.
The Moody's report also listed four key regional strengths that contribute to our continued recovery and competitive advantage:
Good transportation infrastructure
Affordable place to live and do business
Positive and improving net migration
Below-average employment volatility
These are excellent indicators that the Roanoke Region of Virginia is poised for growth in the coming years. The regional economic opportunity has never been greater.
Reach out to Partnership staff anytime for data insights and site information.