Lowe's Companies, Inc. announced recently their plans to build an $11 million distribution center in Roanoke County. The new warehouse and distribution center is expected to generate 70 new jobs and contribute to the economic vitality of the county and the Roanoke Region.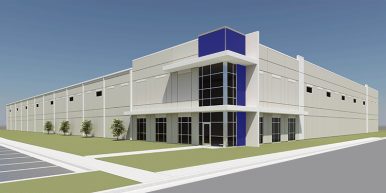 The new warehouse and distribution site will position Lowe's to more quickly and efficiently deliver products to consumers in the region as the 5G revolution takes hold and revolutionizes online commerce and delivery logistics. Lowe's expects to fill the 70 jobs at the site from delivery drivers to warehouse staff.
"We're on the cusp of great leaps in logistics and the delivery of consumer goods enabled by the roll-out of 5G and IOT technology," says Jim Cherney, Founder and CEO of Cherney Development. "To realize the full benefits this provides, we need physical infrastructure in place and I'm proud to work with Samet Corporation and Roanoke County Economic Development who helped pave the way to make that possible right here in the Roanoke Valley."
The 60,000-square-foot distribution center will be located in Valley TechPark on an 8.45-acre site in Western Roanoke County, next door to Mack Trucks manufacturing facility and Synchrony Magnetic Bearings.
"I'm thrilled to see this project come to life," says Jill Loope, director of economic development for Roanoke County. "There has been a lot of interest in logistics projects over the past year and Cherney's partnership with Samet has paved the way for the Lowe's project, bringing new jobs and investment to the County. I hope to see more innovative partnerships like this in the future as we work together to achieve successful economic outcomes."
The project is scheduled to begin in spring 2022 and is expected to be completed within a year. 
Many regional companies and organizations were involved in this project including Roanoke County Economic Development, First Community Bank, Cushman & Wakefield | Thalhimer, Cherney Development, Samet Corporation, and the Roanoke Regional Partnership.
Read the full release from Roanoke County economic development here.