Just three months after announcing the public phase of Thrive 2027, the Roanoke Regional Partnership is pleased to report that the campaign surpassed its $3.6 million fundraising goal. The bold, five-year economic development plan will bring more than $4 million dollars to accelerate the local economy and enhance the region's competitiveness for business and talent attraction.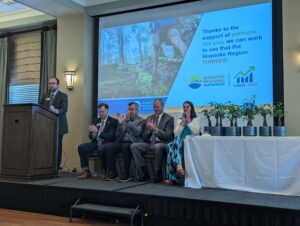 In total, Thrive 2027 raised $4,041,900, pledged over five years, to achieve four initiatives for the Roanoke Region: economic growth and innovation; talent attraction and workforce development; commercial real estate and infrastructure; and placemaking and livability. Success measurements for these initiatives are the creation of 3,000 new jobs, $350 million in capital investments, a 10-percent increase in population growth from in-migration, a 15-percent increase in per capita income, and a 300-percent increase in inventory of certified sites by 2027.
John Hull, executive director with the Roanoke Regional Partnership, said, "More than 122 businesses across all sectors representing the diverse geography of the Roanoke Region of Virginia have made the commitment to invest in future growth for our great region. The Roanoke Regional Partnership is well positioned to continue its long tradition of generating significant economic wins and building a strong, diverse economy. The economic progress that we have seen and will continue to enjoy is made possible by the leadership and investment of both the public and the private sectors working together."
The fundraising announcement was made to investors on Thursday, May 11 at the Vinton War Memorial. "I am very encouraged, although not surprised, to see the business community showing pride in the current state of our region and optimism about the future. Their commitment, alongside our local municipalities' continued support, will allow the Roanoke Regional Partnership to help lead the way for success in the next five years and beyond!" campaign co-chair and CFO of Carilion, Don Halliwill, said of the campaign's success.
"With this strong demonstration of support, the Roanoke Regional Partnership is positioned to facilitate economic growth, talent development, real estate investment and improved livability for this region." Paul Nester, campaign co-chair added.
Cathy Underwood, campaign co-chair, recognized the strong role collaboration and community pride played in Thrive 2027's success. "A team of incredible community leaders, along with Partnership staff, has worked tirelessly over the last 10 months to achieve this success. It is always exciting to see a community come together and invest their time and financial support in something as important as this work."
The Roanoke Regional Partnership, which includes eight municipalities and more than 120 businesses, has a long history of success with economic and community growth. Five years ago, the Partnership launched the Accelerate 2022 fundraising campaign; despite the fourth year of the campaign overlapping a pandemic, Accelerate 2022 was a success that is still delivering results today. Thrive 2027 will work to continue that momentum and keep the Roanoke Region growing with a commitment to entrepreneurship and innovation, greater regional coordination on employer talent needs, regional coordination on real estate and infrastructure needs, and attracting and retaining an increasingly diverse segment of people and businesses by expanding the region's livability story.
The Partnership is grateful for the generosity of the Thrive 2027 investors and volunteers who contributed to the success of this campaign. For more information visit https://roanoke.org/thrive-2027-investing-in-our-future/