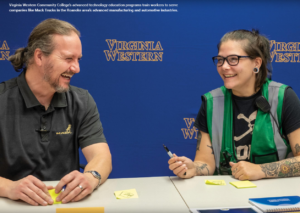 We've written previously on how the Roanoke Region's strong training assets fuel success in business attraction and growth, and Virginia Economic Development Partnership just highlighted another great example of workforce development and industry partnerships between Virginia Western Community College (VWCC) and Mack Trucks.
When the new plant producing medium-duty trucks opened in 2020, Mack Trucks engaged in a new partnership with VWCC, thus beginning a productive relationship.  Mack Trucks has worked with VWCC on internship and apprenticeship opportunities surrounding its programs in mechatronic systems engineering technology, a cross-discipline that combines mechanical, electrical, and computer engineering to meet high-performance manufacturing industry standards.  Skills based in automation are in high demand, and VWCC is providing their student body with the training and connections to be successful immediately upon graduation. 
VWCC has also customized training to support Mack Trucks with courses tailored to problem solving and process improvement as well as leadership and supervisory essentials training. 
"VWCC has a good understanding of our needs, and they adapt to fulfill our needs," -Antonio Servidoni, vice president of operations for Mack Trucks' Roanoke Valley Operation.
Read more on how the Roanoke Region's workforce and industry partnerships are paying off in this piece from the Virginia Economic Review.