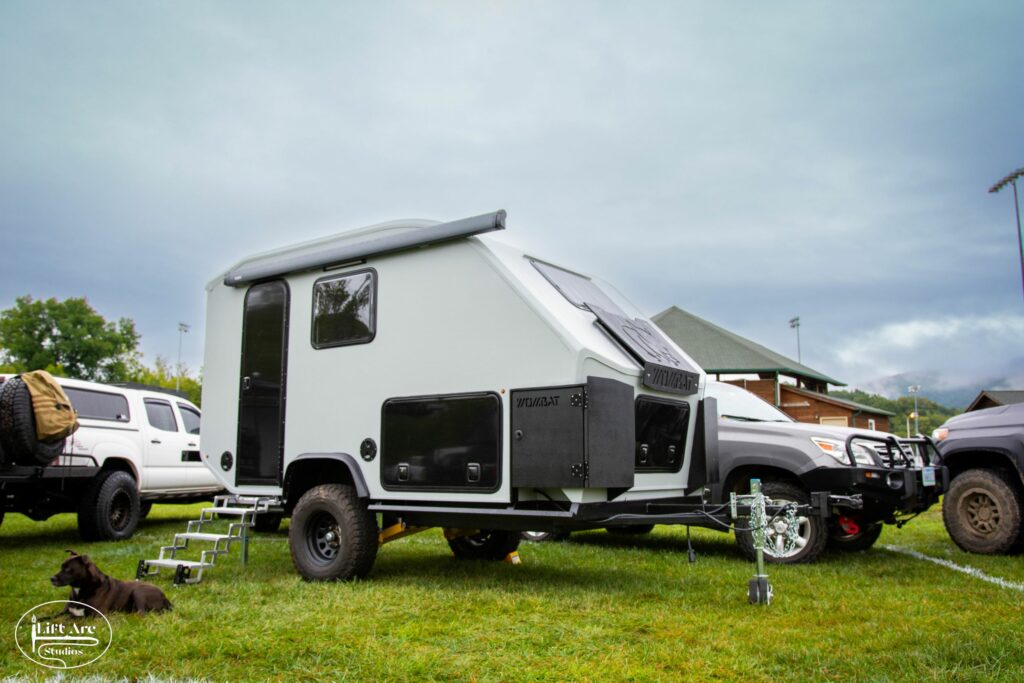 Wombat Camper, a local business that manufactures small, overland-style campers, will unveil its first camper at the festival that brought their business to Roanoke: the Roanoke GO Outside Festival.
Wombat campers are made in Roanoke, VA, and come fully equipped for any camping excursion, on or off the road. Similar to a teardrop camper, the product is compact. What makes Wombat Camper unique is the degree of capability in maneuvering a wide variety of terrain combined with simplicity to transport when going on camping excursions. It will make its debut on Friday, October 14, at the Roanoke GO Outside Festival in Elmwood Park where attendees can tour the camper, talk with the manufacturers, and even purchase one of their own.
Avid travelers themselves, Wombat Camper owners Julie and Brad Meilak were looking for a camping vehicle that fit their lifestyle. After failing to find one on the market, they decided to design and build their own. "We love to travel," Julie said of the inspiration to start this business. "We have traveled pretty much by any means possible, but for us, traveling by camper seemed to combine flexibility and comfort the best. So, we decided to take our ideas and experience and use them to design a camper that both looked good and had all the functionality to take us wherever we wanted to go."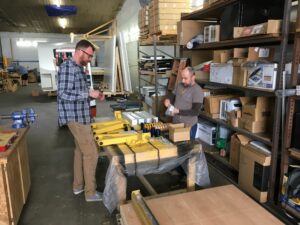 In deciding where to make their home base, the Meilaks wanted a small city with proximity to outdoor recreational opportunities like hiking, camping, and mountain biking. After travelling to Roanoke from Pennsylvania to attend the annual GO Outside Festival, the Meilaks agreed this was the perfect place to start and grow their business. "We love how Roanoke connects with the outdoors in and around the city with mountain bike trails, the Greenway, Explore Park, and, of course, GO Fest," Julie said of the decision.
Pete Eshelman, director of outdoor branding with the Roanoke Regional Partnership and founder of GO Fest, met the Meilaks in 2018 when the company exhibited at GO Fest. "The Meilaks contacted me asking for a place to park their prototype overnight and I said why not in the middle of the festival" says Eshelman. "GO Fest is a fantastic celebration of our region's outdoor culture and brand. The event attracts outdoor businesses, entrepreneurs, enthusiasts and has proven to be a space for innovation. Wombat Camper is a perfect illustration of the forward momentum that can come from a celebration of authentic brand identity."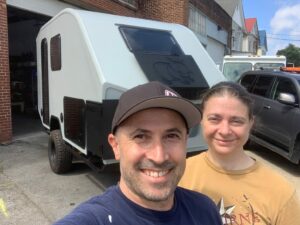 The Roanoke Regional Partnership and the City of Roanoke assisted the couple in finding a space in the region for Wombat Camper to call home. Partnership staff also made connections with service providers. "Having the opportunity to meet the Meilaks and assist them in establishing Wombat Camper as new members of the region's growing outdoor business industry was truly a pleasure," said John Hull, executive director of the Roanoke Regional Partnership. "Wombat Camper is an excellent example of how the Roanoke Region is a magnet for talent capable of supporting business ventures of all sizes and stages of development."
The Meilaks have spent countless hours over the past few years designing and prototyping their flagship camper, and while they did not plan for it, unveiling their first completed camper at the event that brought them to town could not be more fitting. "We are so happy to finally bring it to market and show it to the people attending GO Fest. We hope it is something that people will be proud to say, 'That's made in Roanoke!'"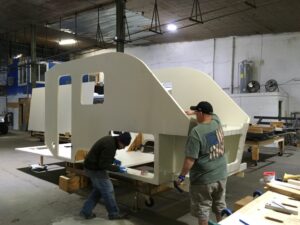 For media inquiries, please contact Pete Eshelman, Roanoke Regional Partnership director of outdoor branding, at 540-392-6989 or pete@roanoke.org or contact Julie Meilak, Wombat Camper co-owner, at 267-218-4234 or julie@wombatcamper.com.