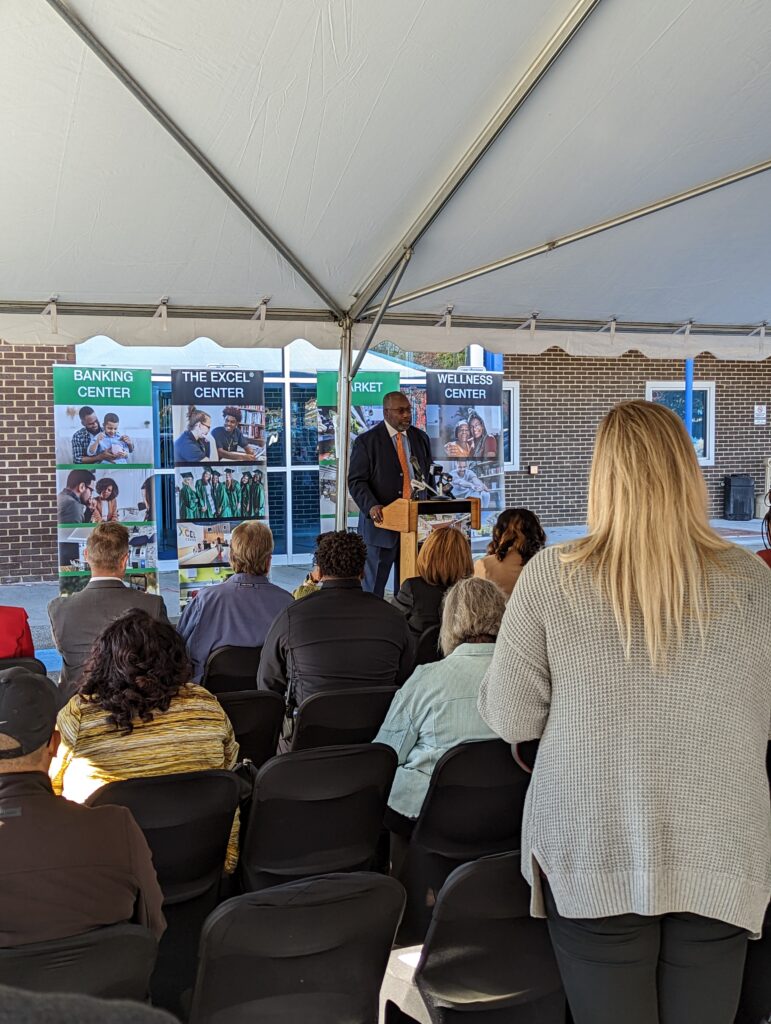 On November 1, Goodwill Industries of the Valleys unveiled their "Restoring Our Community" initiative for the campus on Melrose Avenue. Thanks to American Rescue Plan Act (ARPA) funds, the current building will be renovated to support a market, banking center, wellness center, and school for adult education. This new endeavor aims to restore the Northwest community by creating 100 jobs, eliminating food deserts, addressing health disparities, and providing banking services for individuals and small businesses in the area.
For years, City of Roanoke residents in the northwest quadrant have experienced the negative effects of food deserts in their community. Community advocates have been working to solve these inequities, but financial resources and real estate always seemed to be an issue. However, all of their efforts were laying the foundation for the future. In 2022, the City formed the Star City Strong Recovery and Resiliency Panel to help allocate ARPA funds, and this project was the obvious choice to make a positive impact on the community in several ways.
John Hull, Roanoke Regional Partnership executive director said, "When I served on the Star City Strong Recovery and Resiliency Panel, it was clear to me and the entire group the project had many strengths and served a vital need. Goodwill Industries and the City of Roanoke have designed an incredibly well-thought-out initiative that is sure to contribute to regional success."
They say economic development is a team sport; this effort indeed took a lot of people from both public and private entities to come to fruition. The City of Roanoke, Northwest Roanoke Food Access Initiative, Goodwill Industries of the Valley, and several community leaders and stakeholders all worked together to fill the gaps in the community, and their dedication to Roanoke has resulted in an economic restoration project with ripple effects that will reach far beyond Northwest Roanoke.
The community can expect the new facility to be completed by the end of 2024. To learn more about this project, please visit Goodwill's Restoring Our Community website.