For over 122 years, Bank of Botetourt has been committed to reaching out within local communities to further the area's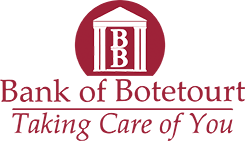 overall economic development. As a community partner, the bank makes charitable contributions to education, music and the arts, social service agencies, charitable organizations and their activities, community and economic development, and numerous other programs.
How is the Roanoke Region important to your business?
The Roanoke Region is home to Bank of Botetourt. We have been committed to serving this community since 1899 covering all facets of banking including personal, retail and business services. Recently, we have expanded our market region to include offices in Cave Spring, Salem & Vinton. 
Why has your company invested in the Roanoke Regional Partnership?
We continue to support the RRP because of our vested interest in the region. We understand that regional cooperation produces results greater than the sum of its parts.
Company Information
Top Officials: G. Lyn Hayth, III, President & CEO; George E. Honts, IV (Ned), EVP, CLO; Michelle R. Austin, EVP, CFO & COO
Website: www.BankofBotetourt.com
Phone: 540-591-5000
Click here for a full list of our investors by industry.
Interested in becoming an investor? Click here to learn more.