Site selectors and businesses consider several factors when expanding or opening new locations. There is the obvious—cost of doing business, incentives, location. Then there are the bonuses—placemaking, livability, aesthetic beauty. There is, however, a wildcard that sets this region apart from the rest—a collaborative, unselfish effort among multiple partners to assist businesses during onboarding and beyond. Efforts to answer the labor availability question are collaborative, and, in the Roanoke Region, a true differentiator in the competition to attract jobs and investment.
The Roanoke Regional Partnership's relationships with educational institutions and state and local workforce partners continue to improve the region's competitiveness for investment. The Partnership, together with its partners, continue to find innovative way to solve new challenges.
Workforce/Talent Partnerships
The region is blessed with strong higher education assets. The Roanoke Regional Partnership has a long history of making connections between expanding companies and training assets including the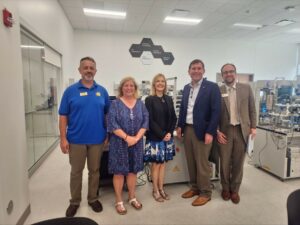 notable examples of Mack Trucks, Schaefer Rolls, and Eldor Corporation.
The Partnership is contributing even greater value through its talent strategies and in partnership with local, regional and state partners. RRP has collaborated with localities, the Greater Workforce Development Board, and the Virginia Talent Accelerator to assist a number of active expansions regionally including STS Group, who recently selected Salem for its North American headquarters.
This project, along with others soon to be announced, has acted as a prototype for a new, custom, collaborative regional toolkit to assist new and existing businesses to ensure successful launches and continued growth. The Partnership's talent solutions strategies are fast becoming an important regional tool to support basic sector, project-based scale-up operations.
State Partners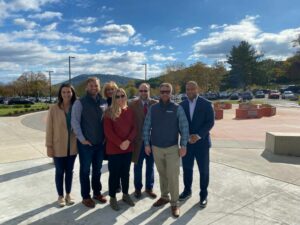 Virginia Economic Development Partnership (VEDP) is a key partner when it comes to lead generation, assisting business expansions, real estate development support, and talent solutions including the Virginia Talent Accelerator Program (VTAP). VTAP accelerates facility start-ups and expansions by expediting recruitment and shortens the new-hire curve.  The program is geared towards traded sectors which sell a majority of goods and services outside of the Commonwealth that meet specific investment and job creation/wage criteria. 
The Roanoke Region has developed specific programs to answer the questions of industries who are evaluating the region for expansion opportunities.  When it comes to assistance with training and recruitment, a collaborative network of local and regional partners are available to assist.  Collaboration and communication are keys to unlocking regional success. 
To attract investment, you must be creative and be able to leverage your assets. In addition to hard assets like location, real estate, and incentives, the Roanoke Region can rely on the intangibles like cooperation and collaboration among educational institutions, local, regional, and state partners.