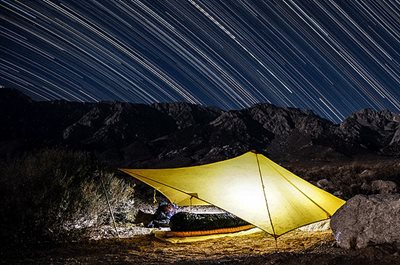 The world of ultralight backpacking is one of the fastest growing activities in outdoor recreation. As more an more people venture into the backcountry, they demand gear that is lighter, stronger, and more functional than ever before. One of the companies on the cutting edge of cutting ounces is based right here in the Roanoke Region: Mountain Laurel Designs.
Mountain Laurel Designs (MLD) hand makes backpacking equipment from their facility in Roanoke, and is known throughout the world as a leading innovator in ultralight gear. The facility crafts everything from backpacks and shelters, to sleep pads and bivy sacks all with one common theme: simplicity and light weight.
When company founder Ron Bell moved to the Roanoke Region from Baton Rouge, Louisiana, he sought to explore the mountains. Always an outdoorsman, Bell had previously worked as a search and rescue climber in Yosemite National Park and wanted to apply the lightweight, less is more philosophy of big wall climbing gear to backpacking.
The only problem? No one was manufacturing gear that satisfied his need.
So he started creating his own.
"I wanted to backpack a lot more in the Blue Ridge area but I didn't want to carry a lot of the heavier gear that was available at the time, decades ago," he says. "So I started making my own gear to go backpacking."
What began as a hobby born out of necessity led to Bell selling his ultralight designs to fellow campers on Ebay, then to creating his own small business website, then eventually to quitting his day job and committing to MLD full time. Bell now employs six people at his Roanoke facility and has a major international following – 25 percent of sales are outside the United States, mostly in the United Kingdom and Australia.
MLD is known for using the highest quality, lowest weight materials available on the market. Most products are made from either silnylon which is about half the weight of tradition tent material, or the more advanced cuben fiber, which weighs only about 20 percent of traditional tent materials. MLD was one of the first to use cuben and has been building products with the material longer than any other company in the world.
Bell says the size of his company is one of the advantages he has over larger manufacturers.
"Cuben is extremely strong and very thin, but takes a high degree of craftsmanship to work with, because you end up bonding the material," he said. "You can't just cut it and sew it and run it through the same type of high speed sewing assembly lines that say, a factory in China can."
The mountains surrounding Roanoke also make the perfect testing grounds for new products and prototypes.
"Living in an area where there are a lot of people doing a lot of outdoor things gives you a lot of inspiration and drive to try to improve your gear all the time," he said.
As ultralight backpacking's popularity continues to grow, so will MLD's business, you will surely see more locally produced gear on the trail.
Mountain Laurel Design products are available through their website, mountainlaureldesigns.com.