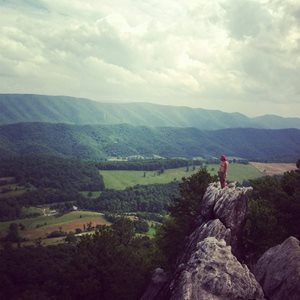 With over 600 miles of trails running through the Roanoke Region, including the most scenic portions of the Appalachian Trail, it is no wonder the area is known as a hiker's paradise. One classic Roanoke Region hike in particular recently caught the eye of online outside recreation publication, Adventure Journal. 
A hike traversing McAfee Knob and Tinker Cliffs on the Appalachian Trail was named to the Journal's listing of the 20 Best Overnight Backpacking Trips. The "Triple Crown" hike includes McAffee, Tinker Cliffs, and Dragons Tooth, and is considered the most scenic section of the A.T. in Virginia, and possibly along the entire 2,100-mile trail. The trip was one of only three in the Southeast, and joined iconic backcountry trips from around the U.S., including Mt. Whitney and Half Dome in California, Longs Peak in Colorado, and Hawaii's Kalalau Trail.
Here is what author Brendan Leonard said about the trip:
Virginia's "Triple Crown"—McAfee Knob, Tinker Cliffs, and Dragons Tooth—are the three most iconic views along the Virginia stretch of the Appalachian Trail. To hike all of them, it's a minimum 28-mile hike (with a car shuttle), or 37-mile loop. To get two of them, McAfee Knob (the rock outcrop that's one of the most photographed spots on the AT) and Tinker Cliffs, it's a far more manageable 13-mile weekend hike traversing Catawba and Tinker mountains and overnighting at the Campbell Shelter.
Read the rest of the article >>>