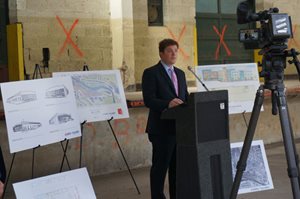 The $100 million Bridges re-development project in Downtown Roanoke has signed its first corporate tenant. Technology company JDSU will occupy the Trolley Barn building at 323 Walnut Ave. says real estate firm Cushman & Wakefield | Thalhimer.
The space is scheduled for a full overhaul that will include an open floor plan, large laboratory space and will feature modern glass enclosures. The company is set to move into the new space when it is completed in December 2014.
 Below is the full press release:
A global technology company with a significant local presence will be the first corporate tenant at The Bridges, a $100 million project that is transforming a long-vacant stretch along South Jefferson Street into new apartments, offices and retail.
The product development site for JDSU, which develops network and service enablement solutions for network equipment manufacturers, communications service providers and enterprises, has signed an agreement to move into the Trolley Barn. The historic building, located at 323 Walnut Ave., within the new National Roanoke River & Railroad Historic District, will be renovated and preserved to meet JDSU's requirements.
JDSU's site is currently located at Valleypark Drive in Roanoke County near the airport. Once the Trolley Barn is ready next year, approximately 75 employees will be located there. JDSU will move into a 24,643-square-foot building featuring an open, creative floor plan in a building that once housed streetcar trolleys.
"When we broke ground on The Bridges just over a year ago, we envisioned a vibrant community where people can live, work and play in a revitalized part of downtown while preserving Roanoke's rich history," said Jason Vickers-Smith, owner of WVS Companies Inc., the project's developer. "In addition to the apartments moving toward completion we now have a world-class tenant in JDSU that sees the potential of the project – both for their own future in Roanoke and for their employees, who will have access to greenways, the river and upcoming options such as a restaurant and coffee shop."
"We are excited to be part of the Trolley Barn historic renovation and the Bridges downtown revitalization project," said Bob Dierk, JDSU's site manager. "We have a history of more than 20 years in the Roanoke Valley, including Salem, so it's quite appropriate to be adding to our heritage in a historic district."
"This is a great example of how a visionary project like the Bridges can preserve and grow jobs in the Roanoke Valley," added Roanoke Mayor David Bowers. "We're delighted to welcome JDSU to our expanded downtown and thank them for sharing the vision we have – that The Bridges will be crucial to connecting downtown to the Roanoke River as part of the city's largest development project."
The deal was brokered by Cushman & Wakefield | Thalhimer, exclusive leasing representative for The Bridges. "Companies today are looking for space that is both functional and unique," said John Nielsen, first vice president and managing broker of the commercial real estate firm's Roanoke office. "This is the largest new office lease signed in the downtown Roanoke area since March 2008. It shows the improving health of the commercial real estate market as well as driving the continued growth of The Bridges into a vibrant project and demonstrating the growing opportunity for new development in Roanoke."
JDSU's local employees work primarily in software and hardware engineering and product management. JDSU is headquartered in Milpitas, Calif., and serves customers around the world.
In addition to a 157-unit apartment complex, South16, along South Jefferson Street, the first phase of The Bridges also includes a restaurant/coffee house, office space, public promenade along the river, kayak launch, sidewalks and streetscapes. For more information, please visit www.bridgesroanoke.com.