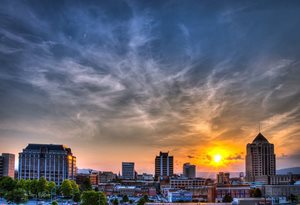 The Roanoke Region landed on another Top Ten list this week, and this is the Top Ten that keeps on giving. The travel site SmarterTravel.com named Roanoke, Virginia as one of "America's Best Small Cities on the Rise." 
In the intro to the list, Smarter Travel listed such attributes as revitalized downtowns, craft beers, and the arts combined with small town charm as reasons for inclusion. 
The site cited Roanoke's own revitalized downtown area as one reason for its ranking. The new Elmwood Park amphitheater, pedestrian plaza at the city market, and the Center in the Square were all named as factors as well. The outdoors was also a significant reason for Roanoke's recognition. 
The Roanoke Star Overlook, Roanoke Food Tour, Twin River Outfitters, Underdog Bikes and the Roanoke River Greenway were all mentioned in the article. Roanoke joined cities such as Chattanooga, TN, Yakima, WA, Traverse City, MI, Portland, ME, and Missoula, MT on the list.