The Roanoke Region's beer scene has exploded. The success of regional breweries and their concentration in the area has given rise to a micro-economy centered on craft beer. Roanoke features commercial and self-guided beer tours, and lots of beer and spirits festivals, including the largest beer festival in the state – Microfestivus.
And there's always fun on tap with live music, food trucks, and even things for the kids to do at many of the region's craft breweries. Many also host cornhole tournaments, trivia nights, and a variety of festivals.
Brews coming out of Roanoke also garner praise and medals at competitions throughout the country. Plus, more than 50 establishments in the urban core have craft beer on tap and brewpubs regularly host professional networking events. 
Breweries in the Region 
Award-Winning Beer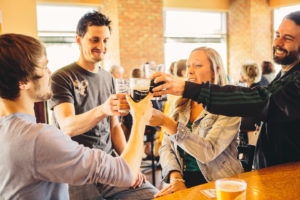 Brewers in the Roanoke Region are earning major kudos for producing some of the tastiest beer in the state. A number of area breweries have reaped multiple awards from the Virginia Craft Brewers Fest. The annual festival includes more than 80 breweries from all over Virginia each August.