The Roanoke Region's beer scene has exploded. The success of regional breweries and their concentration in the area has given rise to a micro-economy centered on craft beer. Roanoke features commercial and self-guided beer tours, and lots of beer and spirits festivals, including the largest beer festival in the state – Microfestivus.
And there's always fun on tap with live music, food trucks, and even things for the kids to do at many of the region's craft breweries. Many also host cornhole tournaments, trivia nights, and a variety of festivals.
Brews coming out of Roanoke also garner praise and medals at competitions throughout the country. Plus, more than 50 establishments in the urban core have craft beer on tap and brewpubs regularly host professional networking events. 
Breweries in the Region 
Deschutes Brewery Roanoke Tasting Room: 315 Market St. SE, Roanoke
Starr Hill Pilot Brewery & Side Stage: 6 Old Whitmore Avenue, Roanoke
Parkway Brewing Company: 739 Kessler Mill Road, Salem
Sunken City Brewing Company: 40 Brewery Drive, Hardy

Chaos Mountain Brewing: 3135 Dillons Mill Road, Callaway
Big Lick Brewing Company: 409 Salem Ave, SW, Roanoke
Three Notch'd Craft Kitchen & Brewery: 24 Campbell Ave. SE, Roanoke
Barrel Chest Wine and Beer: 4035 Electric Road, Suite B, Roanoke
Twin Creeks Brewing Co.: 111 S. Pollard St., Vinton

Hammer & Forge Brewing Company: 70 Main Street, Boones Mill

A Few Old Goats Brewing:

515 8th St. SW, Ste. 228, Roanoke

Olde Salem Brewing Company: 21 E. Main St., Salem
Jack Mason's Brewing: 400 E. Ridgeway St., Clifton Forge
White Rock Brewery: 2117 Bruno Dr., Goodview
Bull & Bones: 1470 South Main St. Suite 120, Blacksburg

Right Mind Brewing (Lefty's Main Street Grill): 1410 South Main Street, Blacksburg 

Rising Silo Farm Brewery: 2351 Glade Road, Blacksburg

River Company Brewery: 6633 Viscoe Road, Fairlawn

Sinkland Farms Brewery – 3060 Riner Road, Christiansburg
Apocalypse Ale Works: 1257 Burnbridge Rd. Forest

Beale's Brewery: 541 Grove Street, Bedford
Great Valley Farm Brewery: 60 Great Valley Lane, Natural Bridge

Devils Backbone Outpost: 50 Northwind Lane, Lexington
Blue Lab Brewery: 123 South Randolph St., Lexington

Award-Winning Beer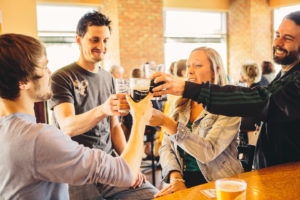 Brewers in the Roanoke Region are earning major kudos for producing some of the tastiest beer in the state. A number of area breweries have reaped multiple awards from the Virginia Craft Brewers Fest. The annual festival includes more than 80 breweries from all over Virginia each August.