PICK A SITE, ANY SITE
10 to 100-acre, pad-ready sites are waiting for you or your clients in the Roanoke Region of Virginia. Discover this thriving region where quality of life, higher education, and innovation meet. Roanoke is the urban hub for all of western Virginia and is one of the most diverse economies in the entire state. The region is home to a burgeoning innovation corridor, 25 colleges and universities, and a beautiful and livable community. From science and technology to hiking and biking, we think you'll agree…living is easy in the Roanoke Region of Virginia.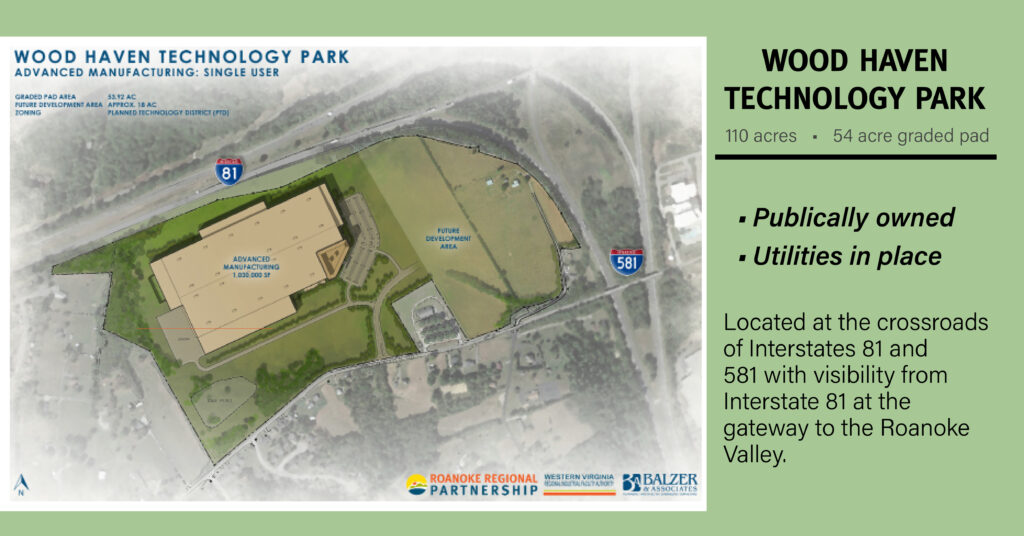 WOOD HAVEN TECHNOLOGY PARK
111 acre planned technology park at the junction of Interstates 81 and 581.
Utilities in place.
Site located 4.2 miles from the Roanoke-Blacksburg Regional Airport. Commercial airport serviced by four major airlines, FedEx and UPS.
54-acre pad ready, certified site currently available.
Property is municipally owned and developed.
---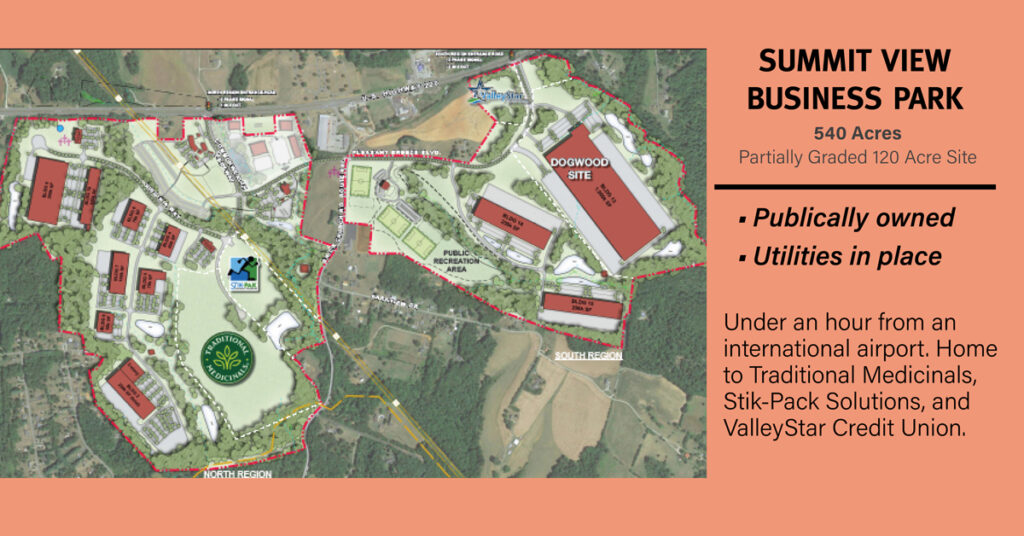 SUMMIT VIEW BUSINESS PARK
Summit View Business Park is a quality site development offering sites ranging from <20 acres to >150 acres.
Two pad-ready sites being developed – 25 acres and 5 acres.
Sites can accommodate buildings >1,000,000 sq. ft.
Park amenities planned for the site include amphitheater, recreational uses, event center, and farmer's market.
Natural gas in-service planned 2023-2025
---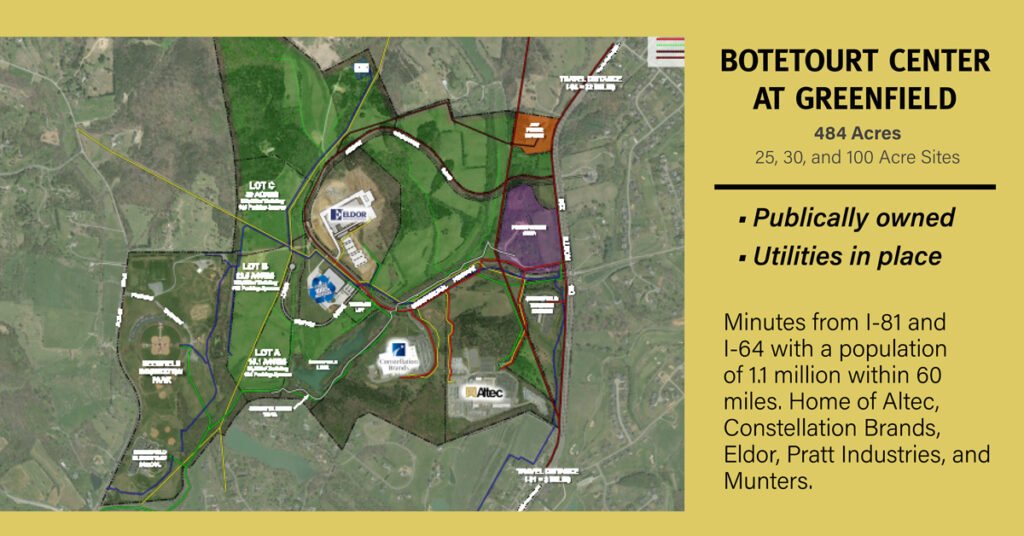 BOTETOURT CENTER AT GREENFIELD
A 480+ acre research and advanced manufacturing business park with sites available from 11 acres to 133 acres in size.
A 15 acre graded pad site is being prepared in the park to accommodate 150,000 square feet.
25, 30, and 100 acre prepared sites are currently available.
Botetourt Center at Greenfield is currently home to global businesses, food and beverages producers, and advanced manufacturers such as Altec, Constellation Brands, Eldor Corporation, Pratt Industries and Munters Group.
---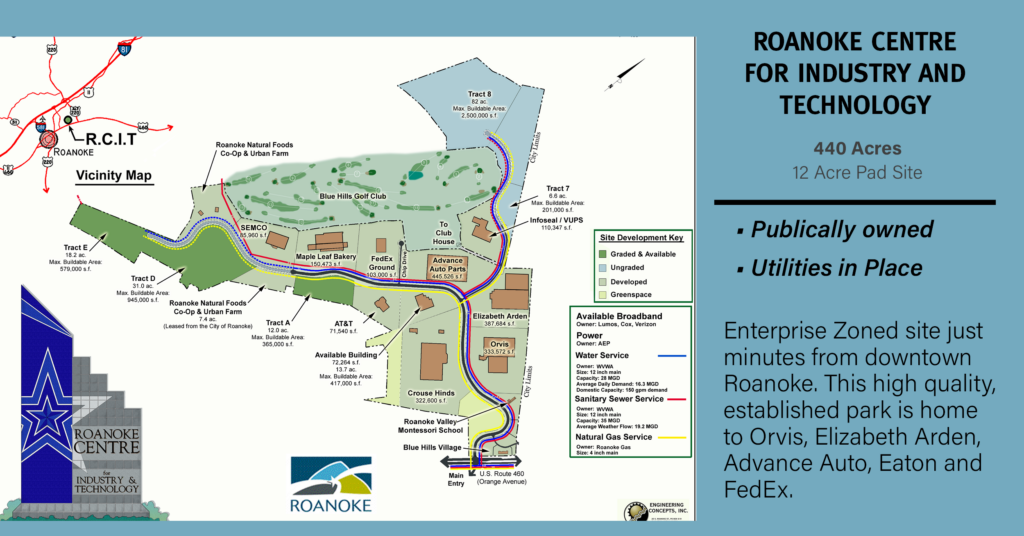 ROANOKE CENTRE FOR INDUSTRY AND TECHNOLOGY
Enterprise zone
Proximity to downtown Roanoke
Publicly owned
Established high quality park
---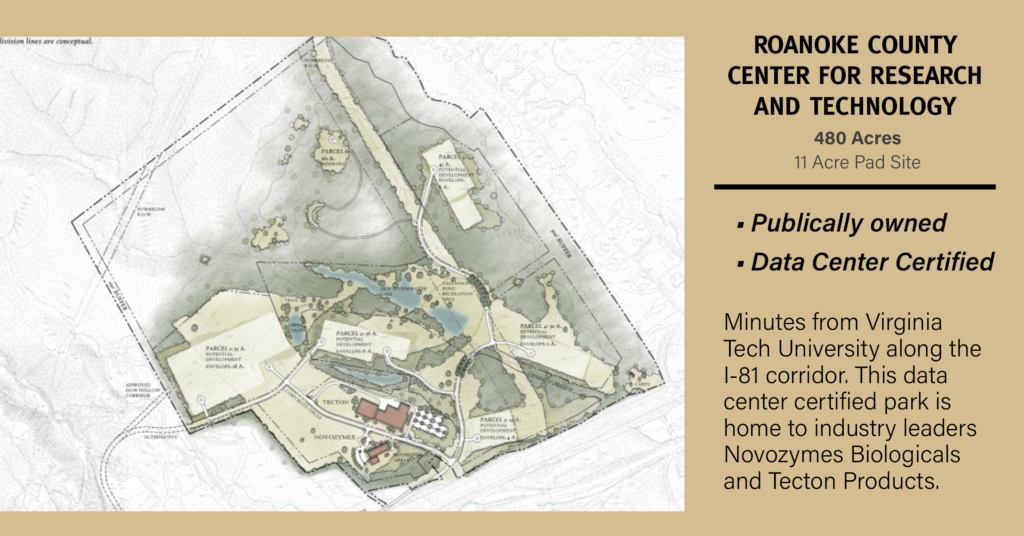 ROANOKE COUNTY CENTER FOR RESEARCH AND TECHNOLOGY
30 minutes or less to Virginia Tech University
Data-Center Certified
I-81 frontage property
---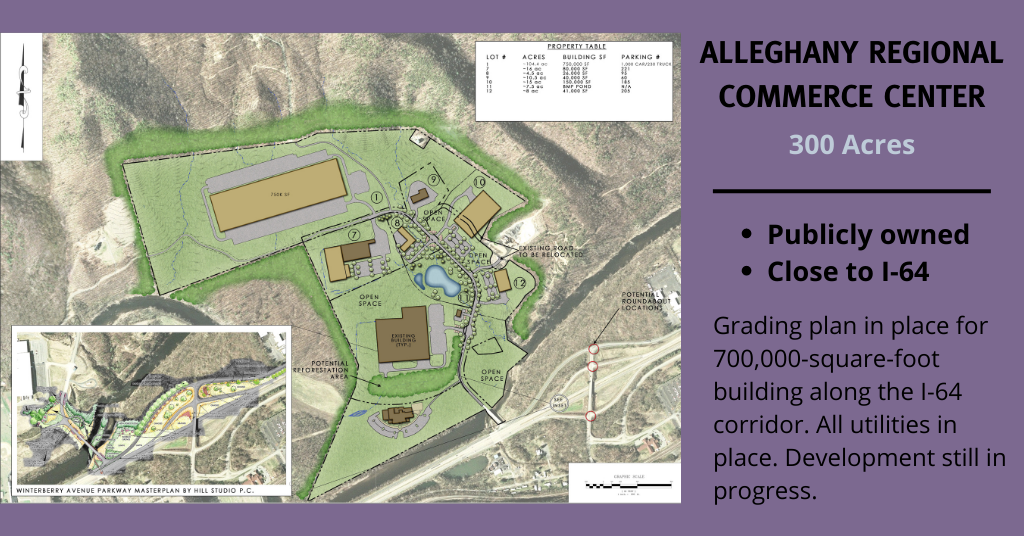 ALLEGHANY REGIONAL COMMERCE CENTER
Proximity to I-64
Grading plan in place for 700,000-square-foot building
Publicly owned
---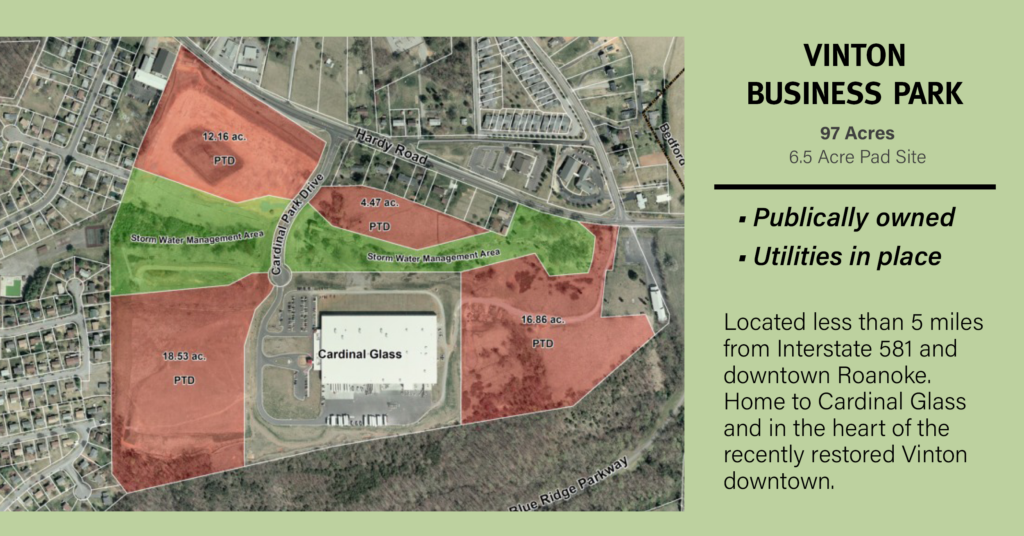 VINTON BUSINESS PARK
Park features historic structure for reuse (tax credit available)
Proximity to downtown Roanoke
Publicly owned