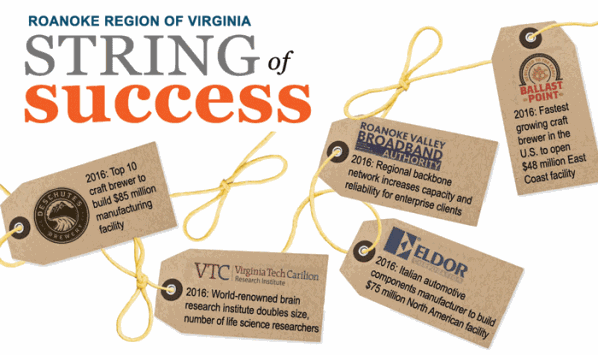 It's been a historic year in the Roanoke Region of Virginia, with a record number of job and investment announcements in 2016. The good news is there is still plenty of room to grow your business and add your story to our string of success.
Contact us to learn more about all the benefits of doing business in the Roanoke Region.
Expansion of facility in Botetourt County
$11 million investment and 60 new jobs
Fleetwood Homes
Rocky Mount expansion will create 100 jobs
$2.3 million investment
World-renowned brain research institute doubles size
250 more life science researchers
Italian automotive components manufacturer to build $75 million North American facility
350 technical jobs
Shared services center for 200 IT, finance, and administrative jobs
Top 10-ranked craft brewer will build $85 million manufacturing facility
108 fun jobs
Integrity Windows
$1.7 million expansion in Roanoke County
60 new jobs
East Coast facility for fastest-growing craft brewer in the U.S.
$48 million investment; 178 jobs
Write your success story in the Roanoke Region of Virginia. Learn more about the regional advantages of doing business here.