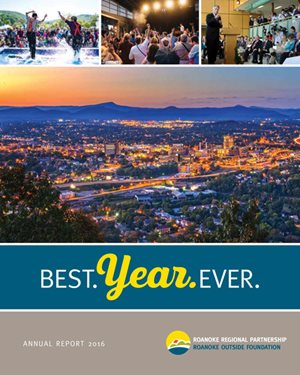 Since 1983, the Roanoke Regional Partnership has brought together the Greater Roanoke business community and eight governments in a regional economic development program that combines resources and strengths to attract talent, enhance assets, invite strategic investments, and stimulate development. We help the region compete and thrive by leveraging its assets — livability, the outdoors, business climate, and higher education. And we focus on results that shape our region's economic future.
 
The Roanoke Region celebrated a lot of wins in 2016, many of which are highlighted in our Annual Report. Download it and share. If you need a printed copy, email us.
 
Highlights from the report include:
$217.5 million location investment (1,412 jobs)
$16.5 million expansion investment (258 jobs)
It was another year of growth in the outdoor sector with signature events and new infrastructure spearheaded by the Roanoke Outside Foundation, a 501c (3) focused on outdoor engagement and building the outdoor economy.
Paddling the Roanoke River downtown is now easier with the opening of a new kayak and canoe launch site made possible by an $80,000 crowdfunding campaign by the Roanoke Outside Foundation. Community and corporate leaders cut the ribbon in October at a site that is a joint effort between the Roanoke Outside Foundation, The Bridges development, Carilion Clinic and the City of Roanoke.
The Partnership's market intelligence department is a regional resource for information for governments, businesses, and citizens. This department impacts the success of all aspects of our work.
If we learned anything in 2016, it was that real estate is critical to our region's success. Studies by the Partnership in 2012 and 2013 determined the region is short on the right sites and buildings that attract jobs, investment, and businesses. In 2016, we did something about it.