Thrive 2027 is the Roanoke Regional Partnership's comprehensive five-year strategy to achieve its vision of boosting the region's economic growth and enhancing the competitiveness of the Roanoke region to attract investment, jobs, and talent. Focused on four priority areas, these initiatives include commitments to entrepreneurship and innovation, greater regional coordination on employer talent needs, regional coordination on real estate and infrastructure needs, and attracting and retaining an increasingly diverse segment of people and businesses by expanding the region's livability story.
A Forward-Thinking, Five-Year Strategic Plan
Initiative 1│Economic Growth & Innovation
GOAL: Grow the Roanoke regional economy by amplifying business recruitment and expansion efforts, strengthening technology and innovation, and generating more high-paying jobs. Learn more.
Initiative 2│Talent Attraction & Workforce Development
GOAL: Expand efforts to attract and retain in-demand talent and support regional workforce development initiatives. Learn more.
Initiative 3│Commercial Real Estate & Infrastructure
GOAL: Champion the acceleration of commercial and industrial real estate development, and regional infrastructure improvements. Learn more.
Initiative 4│Place-Making & Livability
GOAL: Reinforce the region's identity and competitive advantage as an outdoor destination, while highlighting other prominent lifestyle features and amenities, and supporting quality of life efforts. Learn more.

Thrive 2027 campaign investments totaled $4, 041,900 from the private sector. The combined support of the public sector and regional businesses and organizations over the next five years will provide the funds necessary to execute the Thrive 2027 plan.
---
Thanks to these businesses for investing in Thrive 2027 and ensuring success for the Roanoke Region.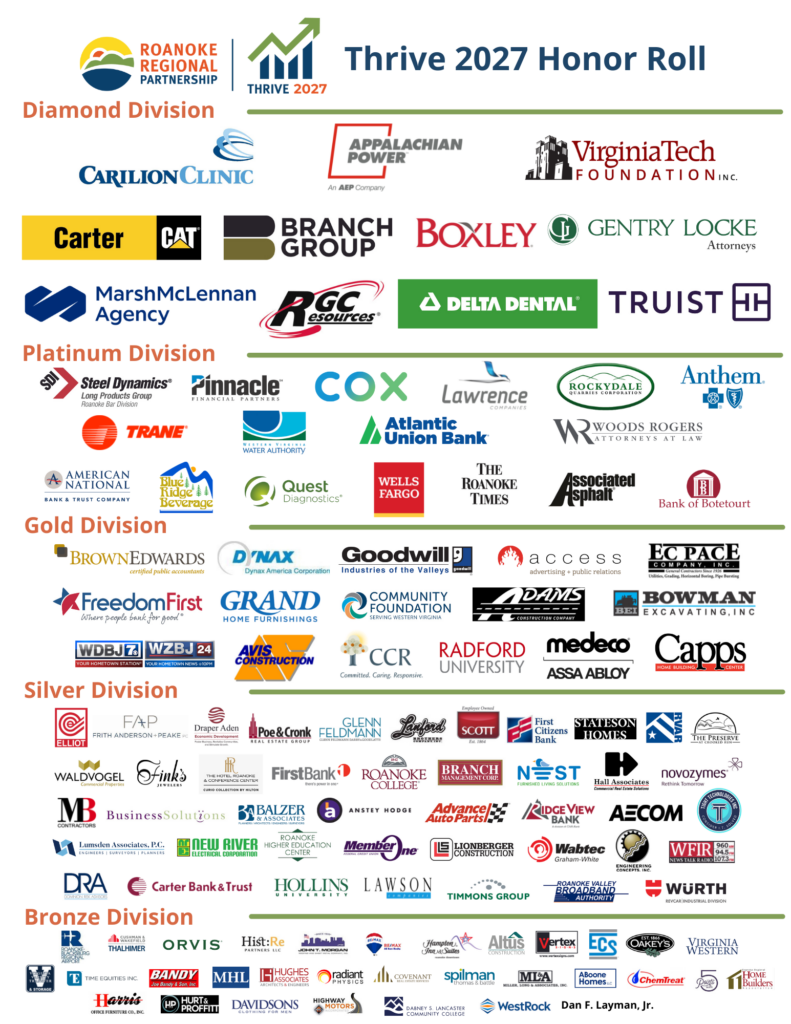 ---
To schedule a meeting or receive additional information on making an investment, please fill out the form below or contact:
John Hull, Executive Director
john@roanoke.org
111 Franklin Plaza, Suite 333 
Roanoke, VA 24011