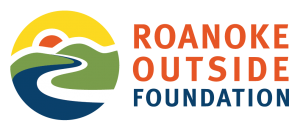 The Roanoke Regional Partnership initially created Roanoke Outside to showcase why the Roanoke, Virginia, Region is one of the best outdoor communities in the United States. In 2013, with the support of the Partnership, the Roanoke Outside Foundation was officially formed as a 501(c)3 charitable organization. It is our mission to make outdoor activity and environmental stewardship a core component of our community's lifestyle by promoting a "conservation through recreation" philosophy.
Roanoke Outside seeks to impact the greater good of the community by organizing or partnering with others to create outdoor-oriented activities and programs that:
Educate citizens about the benefits of activities such as hiking, biking, climbing, and paddling.
Encourage environmental stewardship and conservation through recreation.
Promote a healthy lifestyle and increased fitness levels through outdoor recreation.
Use outdoor activities to raise money for charitable environmental stewardship.
Goals
Encourage the exploration, enjoyment, and preservation of the Roanoke Region's recreational assets for human-powered outdoor recreation activities.
Protect the wilderness character of the Roanoke Region's outdoor assets through conservation of water, forests, parks, wildlife, and related resources.
Promote and celebrate safety, proficiency, and responsibility in all aspects of outdoor recreation.
Objectives
Promote appreciation and respect for the value of outdoor activity.
Educate citizens on how to use outdoor assets to improve quality of life.
Serve as a convener and facilitator of collaborative action among the partners involved in outdoor recreation and environmental stewardship.
Create health benefits from outdoor recreation that extend into economic benefits such as increased productivity and reduced medial costs.
Build a culture of conservation through recreation and education targeting school-age children.
Be a vehicle for funding, managing, or implementing outdoor related programming.
Use outdoor events to raise support and awareness for health initiatives and environmental stewardship.