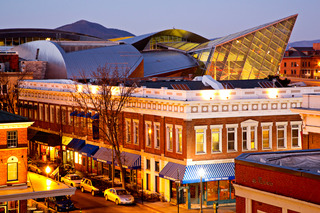 What does Roanoke have in common with Venice, Paris, and Italy's Amalfi Coast? 
Romance, of course!
Roanoke was named one of the Top 10 Valentine's Day Getaway locations from around the globe by World Property Channel, a global real estate business news network. Citing the booming restaurant and culture scene, the beauty of the Blue Ridge Mountains, and the romantic Hotel Roanoke, WPC ranked Roanoke above Venice, Bali and Hong Kong on its list.
The article also mentions the quaint shops of historic Grandin Village and the Grandin Theatre as hot spots for romance this Valentine's Day. You don't have to travel far, or stamp your passport to have a tender night out with your loved one. 
For more info and to read the whole list, see the article on worldpropertychannel.com, and read and interview of the article's author on Roanoke.com.