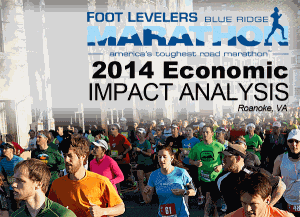 The Foot Levelers Blue Ridge Marathon brought over a half million dollars into the local economy, according to a new report released by the Roanoke Regional Partnership. 
In a study conducted following the race on April 26, the data shows the marathon, half marathon, and Star 10K generated $521,000 in economic impact. Over the past five years, the race has contributed more than $2 million to the local economy. 
See the full press release below, and visit blueridgemarathon.com for more details:
Race Brings Largest Economic Impact to Date
Blue Ridge Marathon, Half Marathon, and Star 10K create $521,000 economic impact
ROANOKE, Va., (June, 2014) ­– More racers from out of town brought more money into the Roanoke Region's economy during the fifth annual Foot Levelers Blue Ridge Marathon, half marathon, and Anthem Star 10K. "America's Toughest Road Marathon" hosted 1,594 runners who generated over $521,000 in economic impact according to a new study. Over the past five years, the event has contributed more than $2,000,000 to the local economy.
A post-race survey determined the April 26 races created $322,200 in direct new sales activity, plus an additional $199,126 in indirect and induced spending for a total of $521,326 – up 9 percent over 2013. Activity surrounding the event will also support 6.1 jobs in the regional economy over the period of one year.
The economic impact is larger this year as a result of increased participation by runners from outside the Roanoke Region. The race drew runners from 38 states – in addition to the District of Columbia – and six countries: Australia, Canada, Czech Republic, Germany, Italy, and Switzerland. The number of runners participating from outside the region grew by 6.4 percent over 2013; average visitor spending increased by over 21 percent among those traveling at least an hour and a half.
"The results of this year's study demonstrate that we're meeting our goal of becoming a destination event. It also reinforces awareness of the Roanoke Region's outdoor amenities and reaffirms that our growing reputation as an outdoor destination leads to economic development," said Pete Eshelman, director of outdoor branding for the Roanoke Regional Partnership. "This study doesn't count money spent by our own residents, it only factors in money spent by visitors, people from outside our region."
The Partnership and Roanoke Valley-Alleghany Regional Commission prepared a participant survey to measure the event's economic impact. Respondents were asked to report the amount spent on fuel, meals, lodging, miscellaneous retail purchases and admissions while in the study area.
Along with national interest in the race – buoyed by exposure in Conde Nast Traveler, Runners World, and Daily Burn – local interest grew as well. A new 10K race option, starting location, and post-race concert in conjunction with the Down by Downtown Music Festival, brought the community out to Elmwood Park. The race was also once again broadcast live by WDBJ-7, who reported large viewership throughout the race.
"For WDBJ7, the 2014 Blue Ridge Marathon was a success on several fronts," said WDBJ-7 General Manager Jeffrey Marks. "Our viewers saw compelling coverage, our advertisers were able to support a large community event and more than 50 of our employees and volunteers enjoyed putting the coverage together."
More than 44 percent of all survey respondents reported staying in town for at least one night. Approximately 35 percent stayed between one and two nights. The average length of stay among overnight visitors was 1.81 nights.
About 48 percent of all respondents reported traveling with family or friends, up from 46 percent in 2013. Respondents were asked to report the number of non-participants that traveled with them. The average size of the travel party among overnight visitors was 2.3, up from 2.1 in 2013. Day-trip visitors traveled with an average of 1.4 others per participant, up from 0.9.
The race course started in downtown Roanoke and climbed to the top of Mill Mountain and Roanoke Mountain along sections of the Blue Ridge Parkway for a total elevation change of 7,430 feet, making it America's toughest road marathon.
"As the event continues to grow, it is becoming much more than a race; it's a destination, bucket-list race that attracts visitors while providing an avenue for community residents to become more healthy and active. More than 30 organizations and sponsors, and 475 volunteers, understand what this event means to our community," said Eshelman.
"We've been a proud member of the Roanoke community since 1987 and promoting wellness is a core value" said Anthony Conversa, vice president of sales and marketing for Foot Levelers. "Supporting the Blue Ridge Marathon is a natural fit and as we grow together we'll have the ability to help more and more people live healthy, active lifestyles."
The 2015 races are set for April 18.
To view the full economic impact report, visit www.blueridgemarathon.com/economicimpact2014