The Roanoke Region is home to cutting-edge education and training centers. Ranging from information technology to manufacturing and trade, the Roanoke Region provides unmatched training opportunities.
Maintains two community colleges in the Roanoke Region. VCCS provides workforce training and development programs in manufacturing, repair and career services.
Provided through the Virginia Department of Labor, this location features classroom instruction to help businesses meet skilled workforce needs and is provided for all trades.
3013 Peters Creek Rd., Roanoke
Build Smart Institute's mission is to educate and train individuals to become career-ready and advance within construction industry occupations. With a combination of virtual learning, classroom instruction and hands-on laboratory skill practice, Build Smart Institute offers a variety of programs and training options. 701 Gainsboro Road, Roanoke
Provides culinary arts courses including a degree program and culinary arts career studies certificate.  Classrooms and a laboratory are located in the facility which is part of the Roanoke Higher Education Center. 109 North Henry Street, Roanoke
Features a high-bay training area so companies can train new employees on their own equipment while their facility is being built, teleconferencing facilities in a tiered lecture hall and classrooms that are wired for the Internet and distance learning.
57 S Center Dr, Daleville
Provides technologically advanced training and education facility managed by the Franklin County Workforce Development Consortium–a partnership offering employment, training and educational services to employers and residents. The Consortium consists of 13 partners representing local governments, community based agencies and educational institutions.
50 Claiborne Ave, Rocky Mount
Provides services and funding to qualifying companies creating new jobs or experiencing technological change that requires the retraining of existing employees.
Brings together 16 different education and training institutions. It also features teleconferencing and distance learning capabilities. Students can obtain their GEDs, undergraduate and graduate degrees, or specialized training.
108 North Jefferson St, Roanoke
Offers employers access to knowledgeable and skilled employees and provides training and educational services for workforce.
3433 Brambleton Ave, Roanoke
What is Mechatronics?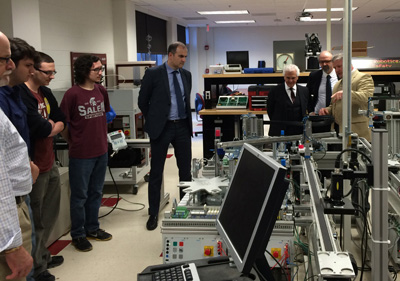 The term "mechatronics" has popped up a lot lately. It's been connected to some of the Roanoke Region's biggest announcements as a top reason the companies looked here.
So what is mechatronics? And how is the Roanoke Region using it to create a workforce advantage?
Mechatronics programs, such as the one at Virginia Western Community College, incorporate training in mechanical and electrical systems as well as information technology into a single curriculum. Training in mechatronics is desirable among manufacturing employers in particular.
Having such a program in the Roanoke Region helps create they type of workforce businesses are looking for.
ELDOR Corporation, an automotive components manufacturer cited the program as an important consideration when they were looking at the region.  It was also important for Ardagh, an automated plant producing metal packaging for the food industry, when they moved to the region in 2014.
Students who complete the program at Virginia Western earn an associate's degree and have the option to move directly into the workforce or transfer to a four-year school. The program also helps students earn key certifications including Occupational Safety and Health Administration, Computer Aided Design, Packing Machinery, Manufacturing Skills (MT1), and Siemens Mechatronics Systems.
It's a hands on program that readies the workforce for immediate employment. Skill learned in the classroom and lab can translate to jobs in manufacturing, logistics, transportation, medical, automotive, building, mining, and aerospace industries.