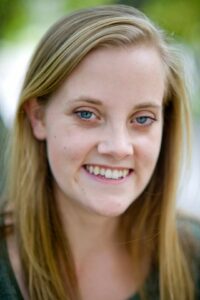 Kait Pedigo has been selected as the new events manager of the Roanoke Outside Foundation, a non-profit created by the Partnership in 2010. Pedigo has worked the last three years as the special events supervisor for the City of Roanoke where she became very familiar with the Foundation's events and played an integral role on the Anthem Go Outside Festival committee. 
Kait comes to Roanoke Outside with nearly a decade of experience working within the Roanoke Region's outdoor community. She holds a degree in theatre and English from the University of Vermont where her experience with directing and stage management developed and was later leveraged to produce large-scale events with precision and expertise. In her role with Roanoke City Parks and Recreation, Kait supervised races, festivals, concerts and permitting for every event within the city's purview. Kait was also a member of the GO Fest planning committee, and facilitated park use for the Blue Ridge Marathon and Go Cross.
"Kait has been a valuable assets to our organization for years as a member of the GO Fest committee and as City liaison for the Marathon and Go Cross. She is organized, creative, thoughtful and hard-working, all traits that will serve our organization well as we continue to build relationships throughout the Roanoke Region," said Pete Eshelman, director of the Roanoke Outside Foundation. "I am pleased to welcome Kait to the Roanoke Outside team and feel confident she will quickly become an integral part of our organization."
"Roanoke Outside has the capacity to move mountains. I've witnessed the Foundation's events draw people from all over the world and find success by whatever metric you use, such as attendance, notoriety, national brand participation, and livability," said Pedigo. "The thing that attracts me the most to working for Roanoke Outside is that success comes by forming relationships and really caring for the businesses and community. I knew I had to be a part of this team."
Prior to working for Parks and Rec, Pedigo worked in the outdoor industry as a program director, guiding adventure excursions, planning outdoor-related events and coordinating weddings. If you want to learn more check out Five Questions with Kait Pedigo, Roanoke Outside's New Event Manager. 
The Roanoke Regional Partnership, founded in 1983, is the public-private economic development marketing and strategy organization supported by Alleghany, Botetourt, Franklin, and Roanoke Counties, the Cities of Covington, Roanoke, and Salem, and the Town of Vinton as well as more than 200 businesses. The organization has worked with its partners to create more than 19,000 primary jobs and $19 billion in investment by attracting companies such as Orvis, Altec, McAirlaids, Bimbo Bakeries, Cardinal Glass, Balchem, Eldor, Mack Trucks, Traditional Medicinals, Constellation Brands and others to the region.