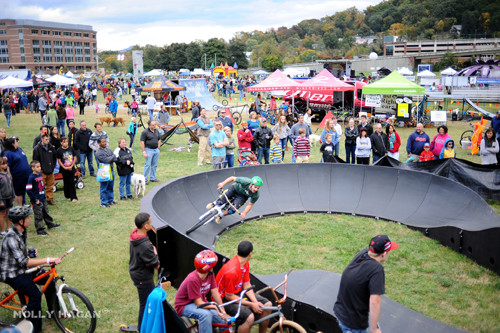 There are plenty of brand new things to do at the Roanoke Go Outside Festival this year.
The free three-day festival celebrating everything outdoors is Oct. 16-18 at River's Edge. Headlining new events for 2015 is the Keen Timberworks Lumberjack Show, a band of flannel wearing, log rolling, and practical joking professional lumberjacks. The professional show includes plenty of things you might expect, such as axe throwing, speed climbing, and plenty of wood chopping, mixed in with some twists you may not see coming.
But that's not all. Other additions include a bouldering wall (and shoe demos), a river clean up with United By Blue, an adult zone with activities and a lounging area just for those over 21. Add this to the lineup of activities and demos you have come to expect from GO Fest and there is more than you can do in a day. (So bring the tent and stay all weekend!)
GO Fest is more than just a festival. What began as a partnership between Roanoke Parks and Recreation and the Roanoke Regional Partnership as a way to engage the outdoors community has evolved into one of the premier outdoor festivals in the country.
The festival helps spur the economy and exposes people — in the Roanoke Region and from all over the country — to the great natural assets right here in our backyard. From mountains to rivers, GO Fest helps attract healthy working people to the area and some of the biggest names in the outdoors industry, which will be on site with gear for you to test out.
And while the focus of GO Fest is to have a lot of fun, it's also a great opportunity to learn about outdoor initiatives happening in this community, conservation groups, trail building workshops, and opportunities to get involved.
Roanoke GO Outside Festival
When: Oct. 16-18 (Gates open Friday at 6 p.m.)
Where: River's Edge
Cost: Everything is free with the exception of competitive races, food, and beer, thanks sponsors and vendors – so please support them.
Learn more: Map, schedule, and list of activities