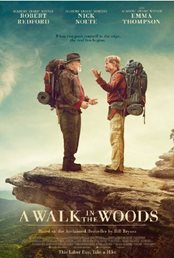 The secret is out.
The Appalachian Trail, McAfee Knob, and the Roanoke Region are the stars of "A Walk in the Woods," which opens in theaters nationwide this week.
The movie features actors Robert Redford and Nick Nolte in a comedy adventure based on the bestselling book of the same name by Bill Bryson.
The story behind "A Walk in the Woods" is based on the real adventure of Bryson (Robert Redford), a travel writer. Upon retirement he hopes to find peace and tranquility by hiking the unspoiled, spectacular, and rugged Appalachian Trail. He's joined by a friend (Nick Nolte) who has other motives and different ideas about what "adventure" means.
The movie is bringing major attention to the Appalachian Trail, and while the plot line has charm, the scenery steals the show, making you want to retrace some of the best footpaths in the world. Of the nearly 2,200 miles of Appalachian Trail, 544 miles pass through Virginia and the iconic McAfee Knob is center stage in the movie as well as the official movie poster.
Winding through the Roanoke Region, the A.T. offers dozens of short and long hikes, from easy to strenuous and includes loops that peak at waterfalls and cliffs with spectacular views. McAfee Knob is the most photographed site along the trail, and a favorite hike for people living in, and visiting, the Roanoke Region, but you'll find many more adventures:
More than 1,000 miles of trails within an hour of Roanoke
Home of the Blue Ridge Parkway
24 rivers and creeks
Second largest municipal park in the U.S.
Largest lake in Virginia
30+ miles of urban pathways connecting the community
"A Walk in the Woods" is already showing in Roanoke. A special showing with the Roanoke Appalachian Trail Conservancy is scheduled for Friday at the Grandin Theater. Before the movie, Conservancy members will talk about their role in the filming of the movie and what the organization is doing to protect the trail. The talk and reception begins at 6 p.m. at the CoLab; the film showing begins at 7:15 p.m.