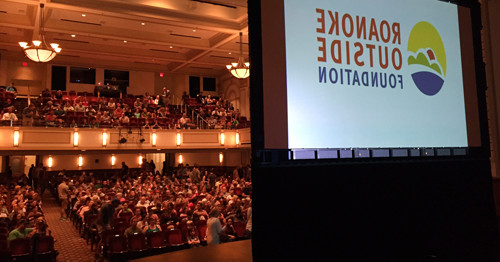 The Jefferson Center was packed for the Radical Reels Film Festival and Get Outside Expo on Sept. 16. The national film festival showcases some of the best mountain sports videos of the year and is only making two stops in Virginia. 
More than 700 people turned out to meet vendors, sample the fare from area food trucks, and catch the films. All of the proceeds from the event went to support the Roanoke Outside Foundation.
Roanoke Outside is a charitable organization working to make your region the capital for world-class, outdoor fun, with things such as RoanokeOutside.com, Get Outside Weekend Update, Blue Ridge Marathon, and GO Fest. Tax-deductible contributions help us continue to push for a future where Roanoke is the greatest place for outdoor recreation.
Some left as big winners. Plenty of prizes were raffled at intermission, including gift cards to restaurants, stores, and concert tickets. Thanks to everyone who came out and made the event a success and we can't wait to see you again next year.