If job growth is an indicator of a healthy economy, it's safe to say the Roanoke Region just got a clean bill of health. Recent data show regional employment grew 2.5 percent over the last year, outperforming the state job growth rate of 2.2 percent. The gains in the past three years (2021-23) have been the highest one-year growth rates since 1994. Additionally, job growth in the Roanoke metro was significantly above the median metro growth rate of 2.04 percent. Richmond, Charlottesville, and Harrisonburg also posted strong job gains during this period. This news comes on the heels of the Partnership's recent announcement regarding its growing labor force. The Roanoke Region continues to boast positive economic trends.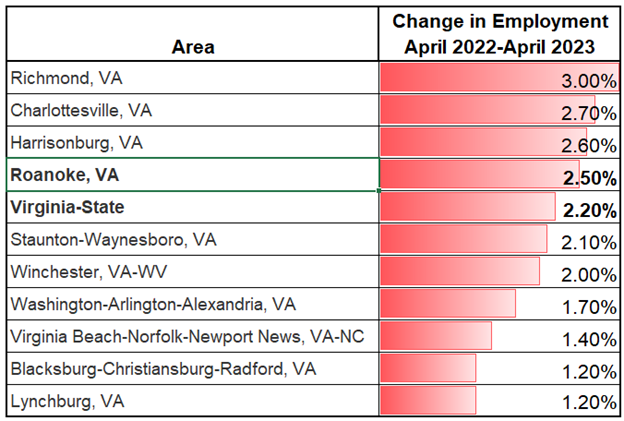 Positive Job Growth = Healthy Economy
Job growth comes from two things: new businesses moving into the region and/or existing businesses expanding. Both things are signs of faith in our region's upward trajectory. Our current workforce is strong and growing, and businesses believe in the region's ability to attract more people to fill these positions. Quite simply, more employment opportunities create a ripple effect: people want to live where they can make a livable wage; people then take that money and put it back into the local economy through retail, food, and housing, thus fueling the economy further.
From May 2020 through May 2023, 20,500 jobs have been added in the Roanoke metro, bringing regional employment to 165,800, an all-time high for the region. The previous peak was nearly 22 years ago in June 2001 at 165,500.  
Regional Job Numbers by Sector
Nearly all local sectors have experienced growth. Manufacturing now employs 16,930 in the region, which is 1,500 higher than pre-pandemic levels. Private education and health services added over 300 jobs since February 2020 to reach an all-time high employment of 28,506. Most sectors have regained employment except for leisure and hospitality and retail trade. However, leisure and hospitality has regained 6,724 jobs in the region and is almost back to its pre-pandemic level, mirroring national data.  
Positive Trends and Partnerships
This newest economic signal is very much in line with the recent news of our expanding labor force—the metro's civilian labor force continues to grow and is at all-time highs. Attractive livability assets, a lively mountain-metro mix, and a growing housing product are all fueling this positive in-migration. And of course, Get2KnowNoke, the Partnership's talent attraction brand, continues its work of retaining and attracting the cream of the crop to the region.
The Roanoke Regional Partnership, together with its local government and private investor partners, announced 435 jobs and $132 in new capital investment last year. At the mid-year point in 2023, the Partnership, together with its partners, has already announced 311 jobs and $75.2 million in new capital investment. These announcements are a shot in the arm for the economy as local businesses are called upon to get these ventures off the ground. And not for nothing, these projects do wonders for regional pride (an important tool in the talent attraction toolbox). Many of these positions are ready to be filled now, while several of them will be available in the future. Significant growth is occurring in the region at a level not seen in nearly 30 years. This is in part thanks to the investment of the public and private sectors working together towards a more prosperous future for our region.