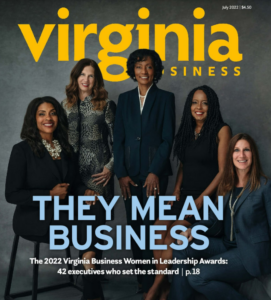 Virginia Business recently announced its picks for the Women in Leadership Awards, and we're excited to share that three of the winners are not only women from Roanoke, but women from companies that invest in the Roanoke Regional Partnership.  Nancy Agee of Carilion Clinic, Mary Ann Gilmer of Goodwill Industries of the Valley, and Cathy Underwood of Branch Builds were among the field of 42 women who are leading the way in their industries.
To win, nominees must be "based in Virginia and hold C-suite or equivalent positions at for-profit businesses, nonprofits or education institutions." Some of the winners overcame great obstacles to achieve success, all are making their communities better, and "all this year's winners have made time for mentoring other women along the way, making sure that the doors they've walked through remain open to future generations." Virginia Business received over 300 nominations (over 100 more than previous years), adding to the exclusivity and prestige of this honor.
These leaders are incredibly deserving of recognition for all they've done for their organizations, the region, and for other women. And we're not surprised. They work for organizations that see the value in their people and community. Carilion, Goodwill, and Branch Group are all investors with the Roanoke Regional Partnership and see the value we bring to business attraction, talent attraction and workforce development, market intelligence, asset development, and livability. In fact, Cathy Underwood served as campaign co-chair for our Thrive 2027 fundraising campaign that surpassed its fundraising goal by more than $400,000. Her help was crucial to the campaign's success.
Once again, congratulations to Agee, Gilmer, and Underwood. We're honored to work with these smart, business-savvy, and accomplished leaders. With these women at the helm, the Roanoke Region is on course for continued economic growth and success.