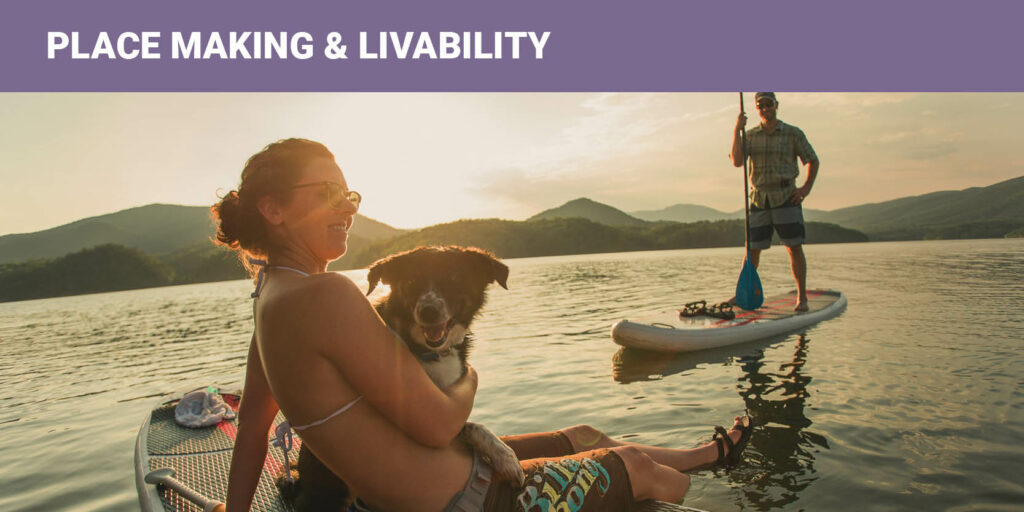 When the Roanoke Regional Partnership announced the Thrive 2027 strategic plan, it included four key strategic areas for the organization's program of work over the next five years.
Economic Growth & Innovation. Grow the economy by amplifying business recruitment and expansion (BRE) efforts, strengthening technology and innovation, and generating more high-paying jobs.
Talent Attraction & Workforce Development. Expand efforts to attract and retain in-demand talent.
Commercial Real Estate & Infrastructure. Advocate for the acceleration of commercial and industrial real estate development and support advocacy for infrastructure improvement and funding.
Placemaking & Livability. Reinforce the region's identity and competitive advantage as an outdoor destination, while highlighting other prominent lifestyle features and amenities, and supporting quality-of-life efforts.
The 2027 plan builds on the current program of work adopted in 2017 that took the region to a higher level, creating over the past five years 3,255 direct and indirect jobs, $527 million in new capital investments, and an increase in per-capita income by 15 percent.
The Partnership completed a strategic planning process to assess the region's competitive position and match its program of work to the opportunities and challenges of a competitive, global economy. Business, government , and community leaders helped build the plan.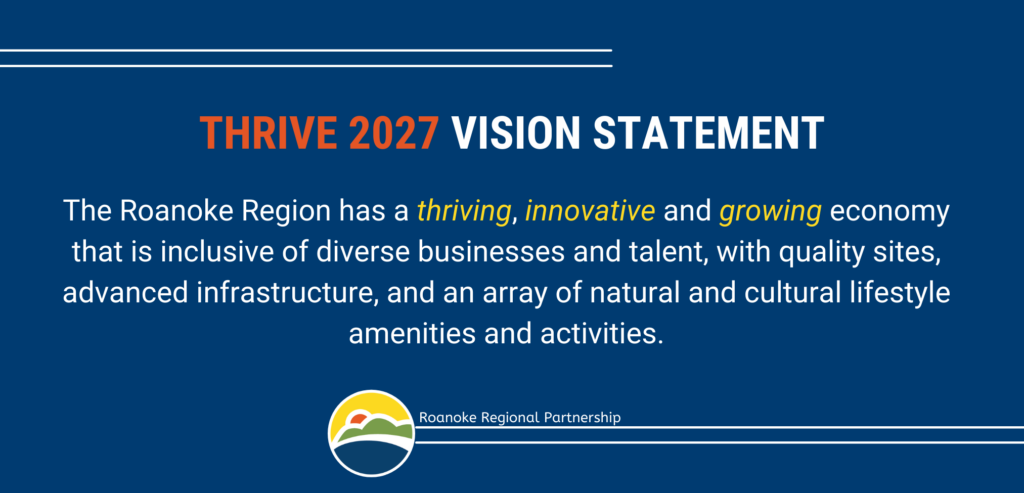 ---
Here's a deeper look at the Placemaking and Livability part of the plan.
The Roanoke Region has been established as a preferred location for outdoor experiences in a scenic natural environment. Building upon that branding and drawing attention to other livability features will present the region as a vibrant community with a variety of offerings for diverse lifestyle interests. The Partnership also has a role in keeping a pulse on an array of quality of life matters that impact economic development goals.
Build on the success of Roanoke Outside with continued marketing and the development of sustainable funding for outdoors preservation and enhancement.
Continue to incorporate the outdoor lifestyle message across business investment and talent attraction platforms.
Convene business and government leaders to formulate and implement a sustainability model for outdoor assets and programs consisting of stable long-term funding sources.
Be a thought leader on how the region can continue to build its outdoor brand through key public and private investment. Hold an annual conference on outdoor branding and assets to monitor progress in outdoor brand building.
Grow the Blue Ridge Marathon and Go Outside Festival to continue to strengthen the outdoor brand.
Continue to build the Get2KnowNoke brand to promote the diverse character and amenities of the region to appeal to a wider audience.
Renovate Get2KNowNoke.com to better address a broad array of quality-of-life assets (such as live music, museums, collegiate sporting events, housing, K-12 schools, etc.) to appeal to a larger audience of recent graduates, remote workers, boomerangs, and relocating talent.
Link all Partnership product lines across all websites.
Add a more sophisticated job board on Get2KnowNoke.com.
Integrate messaging and imagery across all Partnership brand lines.
Monitor emerging quality of life concerns and serve as a regional thought leader in regards to placemaking and quality of life.
Continue to produce scheduled metrics reports on issues affecting economic competitiveness with additional focus on placemaking and amenities and communicate to government, agency, and business audiences.
Identify and support crowdfunding of additional placemaking amenities.

Do you want to know more about the five-year strategy or how an investment in the Roanoke Regional Partnership can work for you? Contact us to learn more.